#NotMyAmerica Shows the Racist Double Standards of America's Police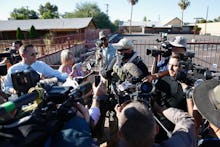 A march of 250 heavily armed right-wing protesters descended upon a mosque in Phoenix, Arizona, on Friday to demonstrate against what they said was the Muslim community that fostered the two men who were killed attacking a "Draw the Prophet" event outside Dallas in early May.
While it was billed as a free-speech rally, the protest was interpreted by many as a deliberate act of intimidation. On Twitter, commenters were outraged, using the hashtag #NotMyAmerica and critiquing the apparent double standard at play: White protesters carrying AK-47s are treated with kid gloves while minority-driven protests across the rest of the country are cracked down on with seeming impunity by the police. This is not the America progressives stand for.
Here's a selection of the best comments curated from Twitter:
Congressional parody account Rep. Jack Kimble chimed in as well: