Former Delaware Attorney General Beau Biden, Son of Vice President Biden, Has Died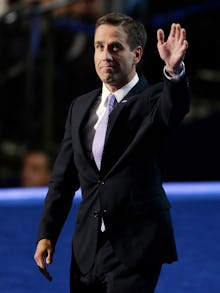 Former Delaware Attorney General Beau Biden, the son of Vice President Joe Biden, died on Saturday of brain cancer at the age of 46. He leaves behind his wife, Hallie, and his children Natalie and Hunter.
The office of the vice president confirmed Biden's passing in a statement, reproduced here from Talking Points Memo:
It is with broken hearts that Hallie, Hunter, Ashley, Jill and I announce the passing of our husband, brother and son, Beau, after he battled brain cancer with the same integrity, courage and strength he demonstrated every day of his life.
The family of the former attorney general added that he was "quite simply, the finest man any of us have ever known." President Obama and First Lady Michelle Obama released their own statement stating that the first family was "grieving tonight," describing him as a devoted Catholic that "lived a life that was full; a life that mattered; a life that reflected [his parents'] reverence for family."
Biden was originally diagnosed with a mass on his brain in 2013 three years after emergency services were summoned to his home for a possible stroke in 2010. Until his illness struck, he was widely considered a likely frontrunner for the Delaware governor's race next year.
The younger Biden was known as an eloquent speaker who was very close to the vice president. During the 2008 presidential race, he delivered a speech on the deaths of his mother and sister in a 1972 car crash that the New York Times described at the time as a " fluid and moving testimony to his father's humanity," bringing many in the room to tears. According to the Times, he was also a major in the Judge Advocate General Corps of the Delaware National Guard who deployed to Iraq that same year.