Why the Murder of an Abortion Provider Resonates Six Years Later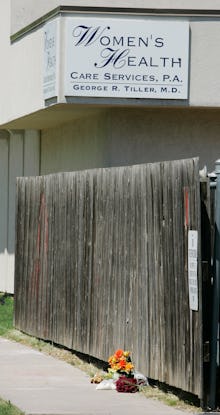 Six years ago Sunday, after decades in the spotlight thanks to persistent slander from talking head Bill O'Reilly and relentless on-sight clinic harassment from anti-abortion groups like Operation Rescue, George Tiller was murdered by anti-abortion extremist Scott Roeder in the foyer of his church in Wichita, Kansas.
Tiller had become the 11th known abortion provider to be killed in the United States for their work. Fellow late-term provider Warren Hern told ABC News in 2009: "I'm appalled and shocked by this assassination, but I'm not surprised. This is not the single act of a deranged gunman. This is the absolutely predictable result of 35 years of anti-abortion harassment."
Tiller's story: Reproductive health was not Tiller's initial calling, but when his father, mother, sister and brother-in-law were killed in an aircraft accident in 1970, he returned home and discovered his father had been performing abortions at his family practice. With his father gone, there would be an unmet need for safe, compassionate abortion care, according to Physicians for Reproductive Health. He felt so strongly drawn to fill that need that he endured fire bombings, endless threats and even gunshot wounds to both arms in a single incident — an attack that didn't keep him home from work so much as a day.
A year before his murder, Tiller had said how he became so committed that he would return immediately to an office where he had been fired upon: "The women in my father's practice for whom he did abortions educated me and taught me that abortion is about women's hopes, dreams, potential, the rest of their lives. Abortion is a matter of survival for women."
Julie Burkhart, founder and CEO of Trust Women, which helps physicians to provide reproductive care, remembers her former boss as "a champion for women's rights and a hero."
Tiller "understood that women were capable of making tough decisions about each and every pregnancy," Burkhart told Mic. "He also said that abortion is not a medical matter, abortion is not a cerebral matter. Abortion is a matter of the heart and until you understand a woman's heart, nothing about abortion makes sense."    
When Tiller's clinic was forced to close after his murder because of a Kansas law, Burkhart was unwilling to sit by and leave her community without access to care.
"I was absolutely furious and devastated that my boss had been murdered and that they had shut down the last abortion clinic in Wichita  thus making Wichita the largest metropolitan area in the country without services," Burkhart said.
"As a matter of principle, it was of utmost importance to re-establish abortion services in Wichita. There was no way that we could not. I felt that [not reopening] would make the climate even more hostile, which is hard to imagine with the avalanche of abortion restrictions [implemented] after Dr. Tiller's death."
Living as a target: Restrictions aren't the only thing that swept in following Tiller's death. David Cohen and Krysten Connon, lawyers and authors of the new book Living in the Crosshairs: The Untold Stories of Anti-Abortion Terrorism, report through nearly 100 providers' own experiences that all manner of anti-abortion intimidation is on the rise.
"According to the Feminist Majority Foundation, individualized harassment and targeting of abortion providers occurs at 52% of the clinics around the country. This is up from 27% in 2010," Cohen told Mic. "To be clear, not all of this is direct violence — it's also threats, stalking, trespassing, verbal harassment, racist epithets and other forms of targeting. But one thing that was clear from our interviews is that this is absolutely not a thing of the past. Many providers today from all over the country live with this as part of their life."
Burkhart herself has been a target.
"Before we opened, an [anti-abortion group] made a recording with the person who murdered Dr. Tiller, calling me by name and stating that I had painted a target on my back. I took this as a direct threat," she said. "Additionally, I've had anti-choicers protest at my house a few times. They've shown up with signs that say, 'Where is your church?' and 'Prepare to meet thy God.' I considered these signs to be direct threats to my life as well."
A climate of potential violence has made hiring a challenge at Burkhart's South Wind Women's Center, also in Wichita. Physicians have been harassed at their other places of business, online and through frivolous complaints with the state medical board, Burkhart said.
"Physicians who I would have liked to work with in Wichita have declined working with us due to the fear of violence in this community," she said. "We take safety very seriously and work hard to ensure that all of our physicians and other staff members are safe from harm."
Burkhart's experience of harassment is typical and prevalent in every region of the country.
Connon described an array of tactics affecting doctors, clinic staff, volunteers and those with no involvement in reproductive health care other than a personal affiliation with a provider.
"There were so many," Connon told Mic. "The clinic owner who was visiting her mother in a nursing home only to have an anti-abortion extremist burst into the room and start yelling at both of them; the doctor who drove to work one day to find his picture in crosshairs on a protester's poster; the clinic administrator who was kicked out of her church after protesters complained to her priest; the multiple death threats that providers received through their children when their kids answered their home phone; the doctor who received a threatening phone call at the hotel she was staying at halfway across the country from where she lived. 
"It's impossible to pick among these and others — anti-abortion extremists terrorize providers in truly shocking ways."
In 2009, Tiller's colleauge Hern told ABC News in unmistakably plain language that all providers — not just the highly visible physicians — must consider the threat of violence: "Every doctor who performs abortions is on the list."
Cohen and Connon describe the pervasive threat felt by abortion providers whether they have yet been targeted as a function of shared knowledge, history and purpose.
"Providers as a group tend to have a memory of the violence that providers have faced in the past," Cohen said. "And because they share these memories and feel them as part of their own collective past, current forms of harassment resonate more with them because they feel they could be next. In other words, a form of harassment that we may not feel [threatened by] because we aren't abortion providers could be very threatening to a provider because they remember Dr. Tiller and the others who have been killed.
"His assassination hit almost everyone in the world of abortion provision very hard both because people feared what it meant for their safety and because people were sad that such a great, compassionate and skilled doctor and women's rights advocate was gone."
The community's loss: Burkhart also spoke of her grief and the loss to Tiller's patients.
"The walls of his clinic were absolutely covered with patient letters and letters from their family members expressing their gratitude for his services. You could see their appreciation for him in all of those letters," Burkhart said. "When patients came into the clinic, he worked with them to develop a life plan. He provided more than health care — he provided guidance and support, to help people tackle the tough issues [and] obstacles when they left. He wanted all of his patients to go on and lead happy and healthy lives."
The deeply personal and life-affecting interactions with patients is one reason providers risk their lives to continue practicing. In his interview with Cohen and Connon for Living in the Crosshairs, Hern said he can't imagine any life path without the vital service he performs for his patients and community:
"I love my work. I could have been a dermatologist and nobody would care. I didn't choose this because I wanted controversy. I thought this was the right thing to do. I felt that doing abortions was the most important thing I could do in medicine, he said. "And if somebody asks, 'Why do you do this?' Well, it matters. It matters for the health of the woman. It matters for the health of her family. It matters for the health of our society, and now it matters for freedom."
As one of only four late-term providers remaining in the U.S. following Tiller's murder, the importance Hern places on his life's work is certainly not overstated. He and the others are left to carry on Tiller's legacy of making truly full-spectrum, life-saving reproductive health care available to those who need it.