Two Weeks Ago, Vice President Biden Gave a Moving Tribute to His Sons and Family At Yale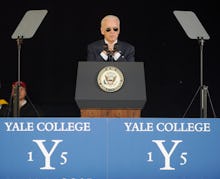 On Saturday, Vice President Joe Biden's son, former Delaware Attorney General Beau Biden, died of brain cancer. He was 46.
Just weeks before his son's death, the vice president delivered commencement remarks at Yale University that the Washington Post described as "a deeply personal speech to thousands of students and parents who had no idea what the vice president was personally enduring." During the address, Biden discussed both the heart-wrenching loss of his wife and daughter in a vehicular collision in 1972 and about the importance of his relationship with his two sons; when he was a senator, Biden traveled home to see them every night after he was done with his responsibilities in Washington D.C.
During his speech at Yale, Biden told the assembled graduates and their families that his mother told him "out of everything terrible that happens to you, something good will come if you look hard enough for it. She was right."
"The incredible bond I have with my children is the gift I'm not sure I would have had, had I not been through what I went through," Biden said. "Who knows whether I would have been able to appreciate at that moment in my life, the heady moment in my life, what my first obligation was."
Those remarks appeared to parallel a speech he gave in 2012, when he moved the families of fallen veterans to tears by telling them that "There will come a day — I promise you, and your parents as well — when the thought of your son or daughter, or your husband or wife, brings a smile to your lips before it brings a tear to your eye."
The relevant parts of the transcript are below:
Six weeks after my election, my whole world was altered forever. While I was in Washington hiring staff, I got a phone call. My wife and three children were Christmas shopping, a tractor trailer broadsided them and killed my wife and killed my daughter. And they weren't sure that my sons would live.