The Dennis Hastert Scandal Has Outed the Hypocrisy of Republican Leadership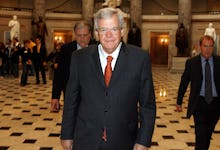 The political world was stunned this week by an FBI indictment against former Republican Speaker of the House Dennis Hastert, who the feds claim agreed to pay $3.5 million in bribes to an unidentified victim of sexual abuse and then lied about it to federal investigators.
This ignominious scandal has all the trappings of a legacy-ruining event. According to CNN, well-placed sources confirm the victim was a student who claims to have been sexually abused by Hastert while Hastert was a teacher and wrestling coach in Yorkville, Illinois from 1965-1981. The FBI indictment says Hastert violated banking regulations and committed perjury while the agency was looking into $1.7 million in payments he made to the victim between 2010 and 2014.
A few decades ago, though, Hastert as well as former House GOP leaders Newt Gingrich and Bob Livingston were similarly attempting to remove Democratic President Bill Clinton for perjury in relation to Clinton's affair at the time with White House intern Monica Lewinsky. While these three Republican leaders spoke in outraged tones about Clinton's impropriety and piously demanded his resignation, they were busy either doing the same thing or worrying about skeletons in their own closet.
About 17 years after Clinton's impeachment, Americans should know what shameless hypocrites each of these men were. Here's a rundown.
Gingrich (Speaker, 1995-1999)
Gingrich, who led the fight to remove Clinton from office, didn't just have one or two affairs. The New Republic reported in 2011 that Gingrich's record of sleeping with women that just so happened to not be his wife went way back to 1974, when staffers complained his first campaign for office was derailed in part by a widely known affair he was having with a young staffer. Gingrich is now on his third marriage to Callista Gingrich, who he began seeing while married to his second wife, Marianne Ginther, during the Clinton impeachment hearings.
He divorced his first wife, Jackie Battley, while she was recovering from a tumor operation in the hospital. By his own admission, he cheated on her too. Gingrich claims the affairs were the result of working too hard in the Capitol for his constituents.
The Gingrich-backed impeachment proceedings against Clinton backfired big time during the 1998 elections, causing the Republicans to nearly lose the House. Gingrich can't say he wasn't warned repeatedly about the dangers of attacking the president, as even members of his own party speculated that the public would interpret the impeachment attempt as undemocratic. Following the defeat Gingrich announced his resignation.
Livingston (Speaker-elect, 1998)
Gingrich's term as speaker was followed by the rise of Louisiana Rep. Livingston, who ascended to the position of speaker-elect following his predecessor's resignation.
But the fiery conservative's reputation crumpled just as quickly after Hustler publisher Larry Flynt issued a patriotic challenge to his fellow Americans: He would pay "up to a million dollars" in exchange for proof that the Republicans leading the charge on Clinton were guilty of similar affairs. Flynt's subsequent investigation forced Livingston to admit that he had "on occasion strayed from my marriage," and he resigned within weeks of becoming speaker-elect. (Flynt also subsequently unmasked Georgia representative and impeachment champion Bob Barr, one of the 13 Republicans selected to lead the prosecution, as a similar hypocrite.)
Blink, and you missed him. Livingston's political career was over.
Hastert (Speaker, 1999-2007)
Livingston was followed by Illinois Rep. Hastert, an evangelical Christian and social conservative with a rating of 100 from far-right groups such as the Christian Coalition and National Right to Life Committee. As the Washington Post's Paul Kane recalls, Hastert conquered the power vacuum left behind by Gingrich and Livingston by portraying himself as the "no skeletons" guy. Just look how that turned out.
While he also sold himself as a leader capable of guiding the GOP through the defeat the widely hated case against Clinton helped cause, Hastert was among the most ardent backers of the doomed project. Just a few weeks before, the Washington Post reported Hastert had voted in favor of all four articles of impeachment against the president. The Daily Kos recently dug up a statement in which Hastert said that given Clinton's "inability to abide by the law, the Constitution and my conscience have all led me to the solemn conclusion that impeachment articles must be passed."
Unfortunately, it took another decade and a half for the speaker to be outed as just as much of a hypocrite as the two Republicans that preceded him.
h/t ThinkProgress