Maroon 5 Just Released the NSFW Video for Their Amazing New Song of the Summer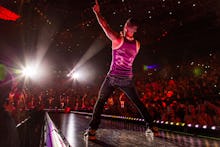 Add another jam to the running for song of the summer. On Saturday night, Maroon 5 surprised their fans with a music video for "This Summer's Gonna Hurt Like a Motherfucker." The track was a bonus song from their 2014 album V, and it's their latest single since their hit "Sugar" came out in January. 
The new video follows frontman Adam Levine as he preps backstage for an encore during a show at London's SSE Arena in late May — because, not surprisingly, Levine is so anal (ahem) that he showers before encores.
The band is on a roll with the singles they've released off V. In Taylor Swift 1989 fashion, single after single has spawned a massive hit. Maroon 5's previous singles off the album were "Maps," "Animals" and "Sugar," all three of which charted in the Top 10 of the Billboard 100 and spent a considerable amount of time there. If history is any indication, "Summer" is likely to do well for the band. 
This is technically the second video for "Summer," as Maroon 5 released a lyric video for the song in mid-May. In the style of MTV's Ridiculousness, that video is a series of summertime fails set to music. But far from a fail, the latest single is a smart move for Maroon 5, who've now officially thrown their hats into the lucrative song-of-the-summer ring. Best of luck.