Girls Still Face Sexist Dress Codes, But They Continue to Fight Back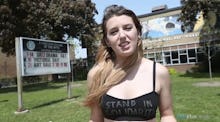 The school year may be winding down at high schools across the country, but the focus on female students' bodies continues to heat up. Countless schools insist that teen girls are wearing clothes deemed too sexual or distracting, which has only sexualized female students in the process. But teens are fighting this targeted, gendered discrimination, and this past week saw additional inspiring efforts.
The dress codes: Biglerville High School in Pennsylvania sent a note about its graduation dress code that blatantly fat-shamed female students last week. The note, the Frisky reported, encouraged students to dress in a way that would cover up their "sausage rolls" and reminded students, "you can't put 10 pounds of mud in a five-pound sack." 
This was hardly the first school to objectify their female students' bodies. A Canadian student was recently told her floor-length halter dress was a "sexual distraction," according to Mashable. A Staten Island, New York, school gave detention to 200 students for dress code violations in September — 90% of whom were female, ThinkProgress reported. And there are countless other examples from the past month alone. 
The protests: Teens are speaking out — not just about the inequity of dress codes themselves, but crucially about the sexist social systems that make such discrimination so commonplace. 
For example, 50 girls wore shorts for "dress down day" at their New Jersey Catholic high school last Friday, after the principal told them not to.
"When girls are allowed to wear shorts, 60% will wear acceptable shorts," Notre Dame High School Principal Mary Liz Ivins wrote in a note about the incident on the school's website. "Others will wear very, very, very, very short shorts. ... These very, very, very, very short shorts are not appropriate anywhere."
Beyond being inappropriate, the principal wrote, such shorts are a distraction and dress codes are meant to "maintain a positive, productive, instructional environment." While Ivins does not spell it out, the concern seems to be not about girls' productivity, but rather that girls alone are objectified as the sexualized, "distracting" object of their male peers' desire.
Wearing shorts isn't the only way students are protesting this objectification.
"We are 17 years old, stop sexualizing our bodies," wrote one anonymous student in a note she posted around her school in early May. "If my shorts make you uncomfortable, you are the problem."
Students at a Connecticut school protested their school's last-minute, sexist prom dress code around the same time and teens in Montclair, New Jersey chanted and marched in front of their school a week later. Last week, Toronto-area teens organized #CropTopDay to push back on their school's unfair standards.
"I would much rather be the 'obnoxious feminist girl' than be complicit in my own dehumanization," one #CropTopDay protester tweeted. "Your dress code is sexist and promotes rape culture."
These efforts are hardly a new trend, despite the upswing in media coverage. Students have been questioning this sexist double standard for years by petitioning, blogging and forming groups to push back on this sexualization. Hopefully girls across the country will continue to do so until administrators not only change these policies, but truly question the deeper sexism that undergirds them.