One Unbelievable Photo Captures Why Australia Has Yet to Pass Marriage Equality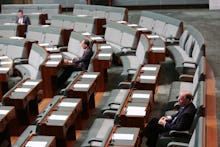 The referendum vote that legalized same-sex marriage in Ireland last week has inspired nations around the world to pick up the fight for marriage equality. Greenland's Parliament, for example, approved a same-sex marriage bill late last week, which will go into effect October 1. 
Yet in Australia, home to a massive annual LGBT festival and a nation with a constitutional separation of church and state, the fight for marriage equality has hit a major stumbling block: the ruling, politically conservative party called the Liberal Party. On Monday, when Labour Party Opposition Leader Bill Shorten introduced a bill to establish same-sex marriage rights, the entire Liberal Party, save five open-minded MPs, refused to attend Shorten's speech.
The shocking turnout of conservative MPs reflects how out of touch politicians are with current public opinion. According to a 2014 poll, a whopping 72% of Australians support the legalization of same-sex marriage, as reported by the Sydney Morning Herald. While thousands rally in the streets of Sydney for marriage equality, their chants land on deaf — here, literally absent — ears.
The rising momentum: Even though conservatives dismissed the bill's introduction, marriage equality in Australia appears inevitable. Constitutional history is on the side of the pro-same-sex marriage movement; prior to 2004, when then-Prime Minister John Howard passed a law banning same-sex marriage, there was no legal definition of marriage (as being between a man and a woman) in Australia. Public opinion is overwhelmingly in favor of same-sex marriage, and dozens of corporations and businesses have taken out ads in support — Bloomberg reported that marriage equality could bring $161 million of revenue to Australia in the first three years. Even conservative ranks are crumbling: Australia's answer to Rush Limbaugh, conservative radio host Alan Jones, came out in support of gay marriage in a moving speech last week. 
Even right-wing Prime Minister Tony Abbott can't deny the rapidly changing tide. He probably can't stop hearing about it, either, since his sister is a lesbian who is constantly putting public pressure on him to address the issue.
Shorten's bill also marks the first time same-sex marriage legislation has been proposed in Parliament. Conservatives can hide for only so long before a parliamentary vote is taken, or the vote goes to the people.