Here's How to Find Everything That Google Secretly Knows About You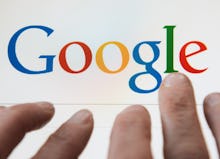 There's a reason it seems like Google knows you better than you know yourself: It can record just about everything you do online.
The Internet search giant just announced My Account, its new privacy control hub. It's a centralized place to ask questions about your own Internet security. More important: It shows users what personal information is already available to Google.
Google's announcement cites a Pew Research Center survey in which 90% of people said it's important to control what personal information is readily available on the Internet. But only 9% felt they had much control. Google's new dashboard offers a better grasp of what info is out there — and it might be more than you imagined.
"Your personal info" shows things like your email addresses, your phone number and any Google Plus profile information you might store. But "account history" delves a little deeper. It creates a map of your day-to-day travel, search history and browser activity.
If, for instance, you use a Google account to research illegal drug markets, online escort services and other less-savory practices, you might keep Google's location services at arm's length. But then again, you might not:
Here's an example of a (particularly domestic) Google history. Notice the squares next to each one, which give you the option to erase searches from your history.
One of the more interesting options sits at the bottom of the personal info settings page: the ability to designate a trustee to receive your account information if you stop using the account — basically, a digital will. If you die, someone can take over your Google history.
The brilliant thing: Google knows we, as Internet users, love convenience. Most of the data Google keeps is used to speed up searches and get us home more quickly by storing your most frequent GPS locations. Sure, it can be seen as invasive. But Google is great at making you see the availability of your personal information not as an intrusion of privacy but a way to better connect you to the world. If anything, the new dashboard won't make you divulge less information — it might even make you want to give up more.