In One Inspiring Quote, Kanye Perfectly Sums Up What It Means to Be an Artist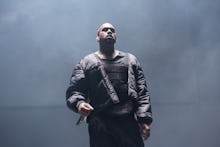 On Friday, Kanye West continued his tour of the academic world, giving a speech at Los Angeles Trade Technical College's Gold Thimble Fashion Show. The event served as something of a homecoming for West; he taught a class at LATTC in September to fulfill a community service requirement for attacking a paparazzo in June 2013. 
His speech was much shorter and to the point than some of the other college lectures Kanye has given recently. But it had one especially stand-out moment, a quote on the creative personality:
"The most successful artists are closest to who they were when they were 5 years old or 4 years old or 3 years old, or when my daughter wakes up and decides to change her career seven times a year. I feel extremely excited to see new talent fighting for their voice that I can only image they've been fighting for since age 3."
He followed up with another inspiring piece of advice for young people: "Use your youth, use this time you have right now to learn as much as possible, to educate yourself, to hone your craft."
Artist as child: Kanye fits this image of artist as a temperamental and uninhibited child almost perfectly. He's not the first to describe artists in this way. Dramatist Percy Mackaye, John Lennon and perhaps Pablo Picasso have all made the connection before. "[E]very child is an artist until he's told he's not an artist," Lennon told Penthouse in 1969. And since Kanye is the new Lennon, according to himself and Paul McCartney, it's only fitting West pushes this part of the Beatle's message as well.
"It's a tough world out there," West told LATTC students, according to Hot New Hip-Hop. "You've got to prepare yourself for politics, bad bosses, hating employees, and usually when you're the absolute best, you get hated on the most. But never stop fighting, no matter what anyone says, no matter how they try to compromise your vision."
West has experienced the reality behind these words more pointedly than most. He has had a hell of a time trying to earn respect from the fashion world. After almost five years of attempts, he's only starting to get the recognition he deserves. His most recent collaboration with Adidas has turned out to be a big win for the company, and the criticism he received at its recent runway shows was much kinder than it's been in the past.
Kanye is absolutely living his own advice. He's still growing as an artist, seeking out new inspiration and new influences, just like all the students out in the crowd listening to him. True geniuses do not halt their innovation when they're told their creations are "repugnant" or "forgettable." They remain open and curious, continuing to draw their bananas purple and their oranges blue — as Kanye's mother claimed he did as a boy — until they reach their next breakthrough.