The Story of How Amy Schumer Got Famous Will Make You Love Her Even More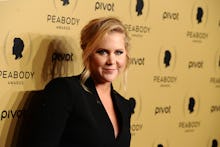 If it was possibly in doubt before, Sunday evening made it clear: Amy Schumer is having a moment. 
The comedian accepted the Peabody Award — the most prestigious award in television — for Inside Amy Schumer, her Comedy Central sketch show that constantly and hilariously breaks down boundaries and gender stereotypes. Not content to let her award do the talking, she also stole the show by planting a passionate kiss on presenter Tina Fey.
It was the kind of attention-grabbing moment that'll stick in people's minds long after the fact — think Sandra Bullock and Meryl Streep's kiss in 2010. It's just as subversive and hilarious as Schumer's work, and a reminder of how lucky we are to have her.
Yet Schumer's success did not come quickly. It required years of hard work both inside and outside the industry. It may have been a slow build, but it's made her progress all the more impressive and inspiring.
Long before Inside Amy Schumer: The child of a wealthy Manhattan family (fun fact: she's also the once-removed cousin of Sen. Chuck Schumer), she told NPR her family owned a furniture business that imported pieces from abroad. When that practice became more commonplace, their company suffered. The Schumers went bankrupt when she was 9, according to the New York Times. That year, her father was diagnosed with multiple sclerosis.
Schumer was young when tragedy struck, so it didn't leave much of an impact. "I really don't remember feeling the effects of it that much," she told NPR. "I had a joke about it that I would feel it — that I felt it in the quality of my birthday parties."
Three years after the bankruptcy, her parents divorced. After a short span of time, Schumer was suddenly living in Long Island with her mother. Her solace came in comedy, so much so that she won the Class Clown superlative in high school.
"If it was a class I was really interested in I would just listen and be attentive and was a good member of the class," she told NPR. "But if it was a class that I struggled or I felt wasn't, you know, like business law, I remember, those are the classes I would kind of act up in."
Yet in truth, her clownery was just beginning.
Last Comic Standing: In 2007, Schumer placed fourth on the fifth season of Last Comic Standing. She competed only three years after she started stand-up comedy at the Gotham Comedy Club, according to the New York Times. She also competed in Comedy Central's Reality Bites Back a year later, in which she placed second.
She did other shows here and there, including the Adult Swim show Delocated, but appeared most on Comedy Central. She appeared in the roasts of Charlie Sheen and Roseanne Barr, plus recorded two stand-up specials for the network.
This partnership led to the debut of Inside Amy Schumer in April 2013. The series caught fire in its second season, and has an enormously successful third, scoring high-profile guests like Tina Fey, Patricia Arquette and Julia Louis-Dreyfus — in the same sketch of one episode. The caliber of guest performers has been equally stunning in other sketches.
One of the biggest recurring topics on Inside Amy Schumer is being a woman in comedy. She's a vociferous critic of sexism in the industry and out of it.
"I think people hate women," she said in a recent roundtable interview conducted by the Hollywood Reporter. "I don't think they want to hear a woman talk for too long. A lot of people project their mom yelling at them."
Instead of yelling back, Schumer uses the subtle power of comedy to teach lessons. "My [career] has been about tricking people into listening," she continued. "I'm not saying all men hate women, but there's such an aggression."
On the big screen: This summer, Schumer will attempt to make the leap from the small screen to the big one. Trainwreck, which she wrote and Judd Apatow directed, features Schumer as a writer unable to commit to a relationship. It's a raunchy romantic comedy with a weird cast — did you ever imagine you could call Tilda Swinton and LeBron James co-stars?
Yet there's something about Schumer that wins great allies no matter what she does. Whether it's her work ethic, her sharp sense of humor, her charm or everything at once, she's risen to the top on her own merits. Don't believe us? Take Swinton's word for it as she wrote in Schumer's Time 100 tribute: "She's the first in the water every time, fully clothed with the abandon only 8- or 80-year-olds tend to display, and she urges us to join her. I'm in."