Three Feminist Geniuses Just Invented a Pair of Panties That Could Change the World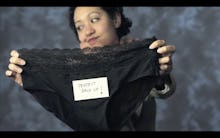 Menstruation is a natural part of life, but it has long been and continues to be stigmatized. For many women, there's nothing worse than a noticeable leak during their period. But alongside the stigma-fueled embarrassment and shame, problems like lack of access to feminine hygiene products remain prevalent, especially in the developing world. Some girls in Uganda, for example, miss roughly 11% of their academic year because of their periods, according to a report on menstrual management. 
However, three women have created a way to change that. Twin sisters Radha and Miki Agrawal and friend Antonia Dunbar designed the self-absorbing THINX underwear, which eliminates the need for tampons or pads.
Their patented technology, THINX QuadTECH, has four layers. First is a moisture-removing layer, then a stain-resistant anti-microbial layer, then the equivalent of a pad, which "can hold up to 2 to 6 teaspoons of blood (or blue liquid, if you're shooting a sanitary pad commercial)," followed lastly by a leak-resistant layer. And these magical panties come in three different styles — thong, cheeky or hip-hugger — ranging in price from $24 to $34. Better still, they can go in the cold cycle of the washing machine (with a recommended hand-rinse beforehand).
It's time to change. The inventors of this unique underwear are out to reform the world. "Women in our culture don't want to talk about their periods — most still think about it as crass and disgusting," Miki Agrawal, CEO and cofounder of THINX, told Forbes. "I want to change the culture around women's most normal time of month — and not while wearing grandma panties or pads that feel like a diaper."
Not only do the THINX cofounders want to change the conversation around menstruation, they also want to help women in the developing world who suffer both from a lack of access to sanitary products and the shame associated with menstruation. THINX has teamed up with AFRIpads, a Ugandan NGO that makes and distributes washable, reusable pads to women in need. For every pair of period panties sold, THINX donates the money for seven pads to AFRIpads, allowing women and girls on their period to go to school and work.
Game changer. THINX has already raised millions of dollars in venture capital funding and plans to keep their business online as they scale up, in order to "control our brand, our story," Agrawal told Forbes. They hope to disrupt the multibillion-dollar feminine hygiene products industry, which, until now, hasn't had many alternatives. Since the advent of the tampon in 1931, there hasn't been any real innovation when it comes to menstruation, notes Agrawal. It's about time.
THINX has the added benefit of reducing periods' substantial financial and environmental toll, where millions of pads, tampons and applicators end up in landfills. These three women may have revolutionized the experience of menstruation, which women deal with for around a quarter of their adult lives. Now that's something worth celebrating. Period.