New Evidence That Bernie Sanders Is Gaining Ground in One Key State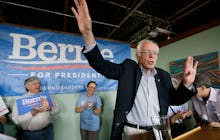 Presidential hopeful Sen. Bernie Sanders (I-Vt.) is conventionally considered to be a long-shot candidate for the Democratic nomination. But there are new signs that his message has been resonating in the crucial state of Iowa since kicking off his campaign in Burlington, Vermont, last week.
According to the New York Times, the hard-charging populist from Vermont can already claim a noteworthy achievement. Last week, he attracted a crowd of 700 people in Davenport, Iowa, in what the New York Times notes is the "the largest rally in the state for any single candidate this campaign season, and far more than the 50 people who attended a rally there on Saturday with former Gov. Martin O'Malley of Maryland."
Sanders also generated other lively turnouts in the state on his first visit to Iowa since declaring his candidacy. In Ames, he drew a crowd that spilled out of a brewery, and held an event in Kensett where the size of the crowd exceeded the population of the town itself, according to the New York Times.
The spike in attention is reflected in recent polling. According to a new Bloomberg Politics/Des Moines Register poll of Iowa voters, Sanders has more than tripled his support among likely Democratic caucus-goers than he was in January, with 16% of likely caucus-goers saying Sanders is their first choice.
As you can see in the chart below, courtesy of Bloomberg Politics, Clinton is dominant among likely Democratic caucus-goers in Iowa — she's the first choice for 57% (one percentage point more than in January). Sanders ranks second at 16% — still far from Clinton, but notable for the leap from 5% in January. Vice President Joe Biden, who has not made any overt signals that he's considering a bid for the White House, came in next at 8%. Former Maryland Gov. Martin O'Malley was the first choice for 2%, as was former Virginia Sen. Jim Webb.
The Iowa caucuses, which are scheduled to be held in February, are the first contest of the presidential race, and mark a critical juncture for determining momentum in the early stages of the nomination race. Given that the voting is several months away, the specific numbers right now aren't as important as their changes.
Sanders' big bump in recent months reflects a hunger among the Democratic electorate for a candidate who can serve as an alternative to the Clinton dynasty. The self-avowed democratic socialist doesn't have a history in the national spotlight, but he is the king of Reddit, and he has quickly taken the anti-establishment mantle from Sen. Elizabeth Warren of Massachusetts, who shows no signs of interest in running for president.
Sanders still has his work cut out for him. While Clinton's campaign already has 30 paid staffers devoted to mobilizing caucus-goers in Iowa, Sanders only has two, according to the New York Times. If Sanders is to evolve into a formidable player, his organizing apparatus will have to match the size of his ambitions. 
Toward that end, Sanders has called for additional early presidential debates this year, which would include both Democrats and Republicans. The debates would provide him with a major (and free) opportunity to make his case to the public in direct contrast to Clinton, and facilitate his ability to shed the label of outsider nipping at the heels of an inevitable heir to the throne. According to the Huffington Post, any such debates might be in violation of debate rules for Democratic candidates. Clinton is unlikely to benefit from such an arrangement, and her strategy so far has largely been to ignore Sanders' criticism. But as she knows all too well from 2008, she can never take her lead for granted.