Kendrick Lamar Brought His Fans Onstage to Perform One of His Greatest Songs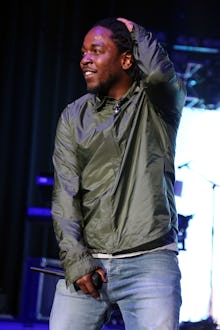 Kendrick Lamar decided to do "something different" during his headlining set at Maryland's Sweetlife Festival this weekend. He invited a fan to take the stage and help him rap along to "Mad City," one of the standout tracks off 2012's Good Kid, m.A.A.d. City. The only caveat to Lamar's invite is that the person chosen had to know "every single motherfucking word."
The first fan he chose (who happened to be Jonathan Neman, the co-founder of Sweetgreen, the company hosting the festival) didn't quite make the cut. But the second fan Lamar picked, a young woman named Ayanna, totally killed it.
"For some reason, every time I bring a young lady up here, they always outdo the men," Lamar said before giving his second invite. Ayanna added even more truth to that maxim, powering through the song's long first verse and first chorus with a solid MC swagger.
Saving lives through music. Ayanna wasn't the only fan Lamar honored during his Sweetlife set. Toward the end, he spotted another girl weeping in the front row and decided to bring her up as well.
"I'm thinking, 'She must be really going through something right now,'" Lamar told MTV. "Then I start hearing her murmur with her lips, 'You saved my life.' So I'm like, damn. This is serious. This is not for play, why she's out here right now. She came to see the person that actually helped her get through life, through music."
Sixteen-year-old Claire told Lamar and MTV that his music saved her life when she was severely depressed and contemplating suicide. They shared an embrace onstage and Claire broke down.
Lamar is definitely not the most visible artist for his fans online, but he makes the connections that count. He's brought fans onstage before to rap the songs they love with him. A fan spit "Look Out for Detox" alongside Lamar at a 2012 show in San Antonio, and another performed "Hiiipower" with him later that year.
Maintaining good relationships with fans is a point of pride for Lamar. He rapped about it on "Mortal Man" off To Pimp A Butterfly: "I freed you from being a slave in your mind, you're very welcome / You tell me my song is more than a song, it's surely a blessing / But a prophet ain't a prophet til they ask you this question: When the shit hits the fan, are you still a fan?"
Those who witnessed Saturday's inspiring Sweetlife performance will likely be until the very end.