The Side of Kim Kardashian's Baby News That Nobody's Talking About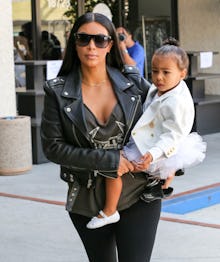 Sound the alarms: Kim Kardashian West is pregnant with her second child with husband Kanye West.
If this news doesn't surprise you, it's probably because her rocky road to pregnancy has been broadcast widely, from her IVF treatments to the "500 times a day" she was having sex. All of that was promoted, of course, over her social media and her E! show, giving us more insight into this woman's road to motherhood than we have of our own moms'. 
The biggest shocker of all? All that oversharing is actually a good thing.
While we might paint Kardashian West as a fame-hungry symbol of pop culture narcissism, the enormous audience she engages actually gives her a rare opportunity. In her unfiltered way, Kardashian West is showcasing the kind of honest, imperfect path to motherhood so many women experience — and shouldn't be ashamed to talk about.
A very public struggle: Getting to baby No. 2 was a challenge for the 34-year-old, and she's not alone. As a 2013 report from the Centers for Disease Control and Prevention found, 25% of women ages 35 to 39 are infertile. Of all women ages 15 to 44, about 12% have trouble getting pregnant or carrying a pregnancy to term. That struggle remains misunderstood at best; at worst, it's stigmatized and painted as improper to talk about publicly.
Kardashian West had been characteristically upfront about her struggles with fertility, making it a focal point of Keeping Up With the Kardashians. This season, we've seen her undergo a series of procedures, explore IVF, consider surrogacy and even discuss the possibility of a post-pregnancy hysterectomy. 
"I didn't know that I was going to be so open with [my fertility challenges]," she recently told Glamour. "But meeting people at my fertility doctor's office who are going through the same things I'm going through, I thought, 'Why not share my story?'" 
That includes both the technical procedures as well as the emotional fatigue the process entails. As Kardashian West said in the season finale, "I'm looking for any kind of positive answer to kind of push me along with this journey. I'm just exhausted. I don't know how much longer I can go through with this."
Shattering the "perfect mother" myth: That honest, unvarnished approach has carried over into how Kardashian West also publicly mothers North, her first child — and that includes confronting the brutal and misogynistic criticism she faced about her pregnancy weight.
"Sometimes it just messes with you because your body changes after you have a baby, so I always say I thought my butt and my hips were big to begin with, [but] after the baby, it's like out of control," Kardashian West told Entertainment Tonight. 
Most importantly, she's candid about the most essential fact of all: There's no one right way to be a mom. "Yeah, it really changes you. When I found out I was pregnant ... I was like, 'I can't do this. It's not the right time.' But then I figured, If I'm in my thirties and I'm not ready, I'll never be ready. So it's been the biggest lesson, and the biggest joy of my life," Kardashian West told Glamour. 
This new pregnancy will surely bring another round of interviews, E! episodes and endless Instagrams tweets from Kardashian West herself. But while we snark on her TMI tendencies or rush to declare "Why should we care?" it's worth remembering that, at her best, she is giving voice to an experience bigger than her. Even the rich and famous face obstacles to the picture-perfect image of motherhood.
And Kardashian West will be the first to talk about it — on camera, of course.