9 Kickass Models Who Prove Women's Voices Are More Powerful Than Their Bodies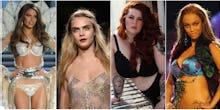 Models are like silent actresses, changing their look and persona multiple times in even just one day, all without saying a word.
But that doesn't mean that models can't speak up — and these days, they are. As social media becomes a job requirement for models, more and more have been speaking (and posting) about their personal lives, their passions and their messages to women. This openness is apparent in models like Gigi Hadid and Tess Holliday. In Holliday's case, she began the #effyourbeautystandards hashtag (currently over 783,000 posts strong on Instagram) as a viral way to promote body acceptance at any size. 
Holliday isn't the only one. Increasingly, models are using their voices to send a message that gets lost in an industry of questionable beauty standards and values: Fashion and feminism are not mutually exclusive. In fact, some of the most beautiful faces we see would rather be using their voices to build up other women. 
Here are nine who are definitely worth listening to.
1. Chrissy Teigen: "Feminism ... is about having the power to do whatever the fuck you want."
In an interview with the Huffington Post, Chrissy Teigen wasn't afraid to to proclaim herself as a proud feminist or to clarify what that means. She's a rarity in a seemingly endless list of celebrities who've distanced themselves from the term, and instead is using her popularity to remind women how much agency they really have.
2. Ashley Graham: "Uplift the important women in your lives."
During her TEDx talk in April, Ashley Graham reiterated her own body-positive attitude by stating how much she loves her flaws, back rolls and cellulite included. But to make lasting change, she reminded us, men and women need to help each other embrace those flaws and need to create a world that values women of all sizes.
3. Cameron Russell: "Our society often values sexuality more than women's ideas ... and there is something very disturbing about that."
In her bitingly honest TEDx talk about her career as a model, Cameron Russell laid out the factors that made it possible for her success and highlighted the way those factors also end up hurting women. She talked about that double-edged sword in an interview with Business Insider, emphasizing the need to call out women's treatment as "objects and ornaments."
4. Tess Holliday: "There is no one way to be a woman, or to be beautiful."
When Tess Holliday graced the cover of People in May, she delivered a clear message: Size doesn't define beauty. Tess broke barriers by becoming the first size 22 model to sign with a major agency, although she continues to face backlash from critics who say she promotes an unhealthy lifestyle. But she's using her platform to remind other women that inner beauty and confidence carry more power than size ever can.
5. Karen Elson: "As a feminist, you can help change by ... speaking out." 
In a Q&A with readers for Rookie, Karen Elson tackled one aspiring model's conundrum: Can you be a part of the fashion industry and still call yourself a feminist? Elson reminded all readers that while the world of fashion is far from perfect, so many of the women within it are independent, driven, capable and strong-willed — and that those traits are leading them to change the industry from the inside out.
6. Robyn Lawley: "We're holding ourselves back."
Labeling women "plus-size," or any size for that matter, can do more harm than good, Robyn Lawley told the Guardian in an interview. Debates about a woman's size, big or small, take the conversation away from a woman's "intellect, strength and power." For women to really rise up, we need to be respected for something other than our bodies.
7. Tyra Banks: "Not apologizing for being strong or wanting to make money or to be on top, that's my message."
In an interview with Yahoo! Beauty, Tyra Banks talked about breaking barriers in the industry and being the first black supermodel on the cover of Sports Illustrated and the Victoria's Secret runway. Blazing those trails and becoming a business leader, she said, are how she can raise up other women.
8. Cara Delevingne: "Get a woman's voice out there."
In an interview with Time Out London, Cara Delevingne described how she often had to fight to make her voice heard as a model-turned-actress. Stepping into the film world was like stepping into a man's world, but that didn't stop her from speaking out or, importantly, providing female viewers with a role model in the process.
9. Geena Rocero: "The more we live in our truth, it's a much healthier world."
In speaking to with HuffPost Live about recent news about Caitlyn Jenner, trans model and activist Geena Rocero was quick to call out media outlets for their "victim mentality" in discussing Jenner and reminded viewers that anyone, no matter their gender, gets stronger when they begin being true to themselves.