Powerful Photos From the Protest Against Facebook's Controversial "Real Name" Policy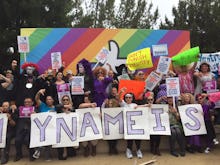 On the heels of Caitlyn Jenner's stunning appearance on the cover of Vanity Fair, members of the drag and transgender communities traveled to Facebook's Menlo Park, California, headquarters on Monday morning to fight for their right to publicly and proudly declare their true selves.
Accompanied by defenders of victims of domestic abuse and members of the Native American community, the protesters were demonstrating against Facebook's so-called "real name" policy, which requires users to identify themselves by their real names on their profiles.
Drag performers and other marginalized groups went to war against the social networking giant last fall after it suspended hundreds of profiles of drag performers and other members of the LGBT community for allegedly breaking the "real name" policy. 
Those critical of Facebook's decision, including many high-profile drag performers, argued that the rule "disproportionately impacts our already vulnerable communities." They say that allowing users to report "fake" names makes them giant targets for abuse and bigotry. For some, their non-given names are the names tied most strongly to their identities; for others, using non-given names represents a way to shield themselves from physical danger.
"All people should feel safe using their preferred identity when speaking, online or off, and the U.S. and California constitutions guarantee the right to speak anonymously or with a pseudonym," the protesters wrote in a letter to Facebook.
At first, the site seemed willing make a change. In early October, Chris Cox, Facebook's chief product officer, posted a public apology in which he explained that the initial suspensions were a mistake. "We owe you a better service and a better experience using Facebook, and we're going to fix the way this policy gets handled so everyone affected here can go back to using Facebook as you were," he said.
But according to the alliance of protesters, who launched a campaign called #MyNameIs to publicize their efforts, Facebook has done little since then. They're still collecting stories of users unfairly targeted by the policy on their website, and on Sunday, drag performer Sister Roma called Facebook out for its inaction. 
"Facebook exec made a very public apology but it was a lie," read the post. "Nothing has changed, in fact it's gotten worse. That's why we have taken up the fight again, this time following through with our original protest."
Carrying signs that read, "Names don't hurt people. Fake name reporting is cyber bullying," "Fake name reporting punishes identity, not behavior" and "Your apology was a lie," a large group made their away around Facebook's headquarters to call out Mark Zuckerberg and co. for their inability to make the change.
On the bus ride to Menlo Park, which was sponsored by rival social network Ello, Sister Roma gave the group a pep talk to ramp up the excitement for the protest:
In preparation for the protesters, Facebook arranged for a rainbow-colored banner to cover the company's entranceway sign. The demonstrators, however, had other ideas, and stood in front of it with signs and posters instead: 
Drag performer Juanita More also posted a snapshot of Caitlyn Jenner's Facebook page to Instagram, with the caption #MyNameIs:
While the most public-facing figures of the campaign have been drag queens, other marginalized groups, like the Native American community and victims of domestic violence, have taken part. "I wouldn't be doing this if it just affected drag queens, because I would have just shut down my account and figured out a different way to connect with people," Lil Miss Hot Mess, a drag queen based in San Francisco, told Fusion.
One Instagram user, bethbicoastal, posted the photo below with the following caption: "Just spoke on behalf of leather, kinksters, sex workers, and performers on our concerns about the 'real' name policy on Facebook."
While the name one chooses to go by on Facebook may seem trivial on the surface, it plays a huge role in shaping one's identity on the Internet. For members of oppressed communities, the power to choose one's own identity can carry enormous weight. After all, they simply want to reflect their authentic selves, just like anyone else.
The events may have come to an end on Monday afternoon, but if Monday's protest is any indication, this won't be the last battleground.