11 Quotes from Caitlyn Jenner's Groundbreaking Interview That Everyone Needs to See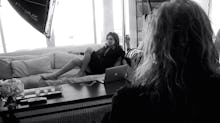 Caitlyn Jenner introduced herself to the world on the cover of the July 2015 issue of Vanity Fair. Inside its pages is where we get to know her.
The full interview will be published in the June 9 print edition of the magazine, but subscribers have access to an online version now. Author Buzz Bissinger's piece, titled "He Says Goodbye, She Says Hello," follows Jenner through the ups and downs of her transition. Below are a few selections and quotes from the piece on her attempts to come out previously, continuing to be called Bruce and more.
On why she decided to come out: One of the major parts of the piece is Jenner's rejection of the idea that she's transitioning for personal gain. In truth, she said she wishes her identity had been simpler to come to terms with. "I wish I were kind of normal. It would be so much more simple," Jenner said. "The uncomfortableness of being me never leaves all day long. I'm not doing this to be interesting. I'm doing this to live."
On her panic attack: After undergoing what Bissinger calls "facial-feminization surgery," Jenner spent time in isolation. She experienced a panic attack, thinking to herself, "What did I just do? What did I just do to myself?" Ultimately however, she realized she'd done the right thing. "If I was lying on my deathbed and I had kept this secret and never ever did anything about it, I would be lying there saying, 'You just blew your entire life,'" she told Bissinger. "'You never dealt with yourself,' and I don't want that to happen."
Her children's reactions: The bulk of the piece explores Jenner's relationships with her children and their reactions to her coming out. Though they're supportive, there are also bridges to be mended after years spent apart. "I have high hopes that Caitlyn is a better person than Bruce," eldest son Burt told Bissinger. "I'm very much looking forward to that."
Her daughter Cassandra echoed Burt, saying Jenner was at her happiest and most connected to them while she "was moving towards his authentic self. ... I would happily have traded a distant father for a loving, involved mom."
But overall, the reaction has been a supportive one. "I've never been more proud of you than I am at this moment," son Brandon told Jenner.
"A guy came in the other day and I was fully dressed — it's just habit, I said 'Hi, Bruce here,' and I went, Oh fuck, it ain't Bruce," she said.
On still getting called Bruce: Much media attention Monday has focused on the continued use of Jenner's previous name in headlines and social media posts. She understands the mistakes, though — she even does it herself. "I don't really get hung up," Jenner said. "A guy came in the other day and I was fully dressed — it's just habit, I said 'Hi, Bruce here,' and I went, Oh fuck, it ain't Bruce, I was screwing up doing it."
On stardom as Bruce: After competing in the Olympics, Jenner was thrust into the public spotlight. But she never felt comfortable in Bruce's skin under the harsh glare of stardom. "I walk off the stage and I'd feel like a liar. And I would say, 'Fuck, I can't tell my story. There's so much more to me than those 48 hours in the stadium, and I can't talk about it,'" she told Bissinger. "Little did they know I was totally empty inside. Totally empty inside."
On her exes: Bissinger talked to many of Jenner's exes for the piece, including most recent wife Kris Jenner. Yet the most insight comes from ex-wife Chrystie Crownover, who recalled feeling immensely intimate with then-Bruce as he told her of his inner feelings. "He told me he always wanted to be a woman," Chrystie said. "He told me as a little kid how that felt. He told me [of] different fantasies that he had, related to loving women."
On the E! docu-series: In the same vein as her fears people would think she's transitioning for attention, Jenner also expressed some anxiety about people coming after her for her new docu-series airing on E!. "'Oh, she's doing a stupid reality show. She's doing it for the money. She's doing this, she's doing that,'" she said, anticipating complaints. "I'm not doing it for money. I'm doing it to help my soul and help other people."
E! seems to have the same goals as Jenner as well. "We all love ratings," Jeff Olde, E!'s head of programming, said. "But we understand the power and responsibility to be able to share this story. ... This is so far beyond television, on a personal level. If I get one thing right in my professional career, it will be this."
On watching her interview with Diane Sawyer: Jenner's interview for ABC with Diane Sawyer was historic, but according to the subject of said piece, it was also nerve-wracking. "Was it tough to watch? Of course it was," Jenner said. "I never thought in a million years I would ever have to divulge such private, intimate feelings I've had all my life."
Yet the emotions weren't all negative. There was also an enthusiasm to "be free," as she put it in the behind-the-scenes video for Vanity Fair. "I was also excited to get it off my chest," she told Bissinger. "Scared, but excited."