After Being Outted by His Principal, This Gay Colorado High Schooler Got the Last Laugh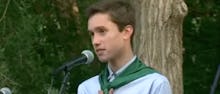 Evan Young, a Colorado high school valedictorian whose school prevented him from giving his graduation speech because he intended to come out to his fellow classmates, had the last word Sunday when he delivered his original remarks at an outdoor event in Colorado City. 
Colorado advocacy group Out Boulder held the ceremony, which certain school faculty and noted out U.S. Rep. Jared Polis attended to lend their support and hear Young's original planned speech.
In a speech, which lasted just over 10 minutes, Young hit many of the traditional graduation topics, including how much he would miss his fellow classmates and how homework was so often unnecessary. There was even some humblebragging about his own self-professed lack of effort despite graduating with a 4.5 GPA. More than halfway through the speech, the big reveal finally happened.
Young let it out slow. 
Young's story went viral last week after the leadership of his school, Twin Peaks Charter Academy High School in Longmont, Colorado, objected to his planned public disclosure. Principal BJ Buchmann demanded Young edit out the remarks; when the graduate refused, Buchmann not only canceled Young's speech but stripped him of his much-earned status as class valedictorian. 
"My main theme is that you're supposed to be respectful of people, even if you don't agree with them. I figured my gayness would be a very good way to address that," Young told the Denver Post.
To add insult to injury, Buchmann called Young's father to publicly complain about the speech and, in the process, ended up outing the teenager to his parents.  
Neither Young nor Buchmann responded to inquiries for comment, but Twin Peaks did issue a statement defending their actions and accusing Young of promoting a "personal agenda."
"A graduation ceremony is a time for family and those closest to the students to celebrate success and express mutual wishes of gratitude and respect. It is not a time for a student to use his commencement speech to push his personal agenda on a captive audience, and school officials are well within their rights to prevent that from happening." 
With the speech, he finally got to complete his much-deserved honor. With a scholarship awaiting him at New Jersey's Rutgers University, Young's future looks bright, and the small bigotry of Longmont will be very far away.
It's another reminder that success is the best revenge.