Fox News Had the Worst Reaction to Caitlyn Jenner's 'Vanity Fair' Cover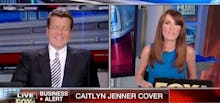 Caitlyn Jenner made her debut on the cover of Vanity Fair on Monday, setting much of the media abuzz with pro-trans sentiment and support for her very public transformation.
But over at Fox, host Neil Cavuto and reporter Dagen McDowell were busy mocking Jenner for her pride in her new identity. On Fox Business' Cavuto, the eponymous host went out of his way to portray Jenner's trans identity as weird, mockingly saying "anything can happen" and loudly demanding to know "What the hell is going on?"
McDowell then tried to portray Jenner's coming-out moment as a publicity stunt while repeatedly misgendering her, using "he" instead of "she" numerous times during the short segment. McDowell commented, "He is the only person on planet Earth who knows how to one-up his most famous stepdaughter, Kim Kardashian. She announces that she is pregnant with a second child, 'Well you know what, I can do you one better than that.' That's how he unveiled his new identity."
McDowell snidely referred to the name Caitlyn as an "interesting way to spell it." She then tried to goad Cavuto into commenting on whether he found a trans woman attractive by calling Jenner's outfit "very Playboy Bunny-esque." Cavuto responded, "I wouldn't know, but thank you for that."
When McDowell apparently realized she should be referring to Jenner's identity correctly, saying "He looks hot ... or she looks hot," Cavuto dismissively ended the segment by saying they were out of time.
Then he said something really nasty, jokingly referring to the next host, Charles Payne, by the female name Charlene:
Overall, this was a very unclassy response to Jenner's big moment from the crew at Fox. But were you really expecting them to react any differently? Fox has been hating on trans people for years.