18 Heartbreaking Photos From the Chinese Cruise Ship Disaster That's Left Hundreds Missing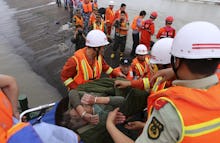 A cruise ship traveling along China's Yangtze River capsized Monday after its captain said it was caught in a cyclone. As of Tuesday morning, five people have been confirmed dead, 15 have been rescued and hundreds more remain missing.  
The 250-foot-long Eastern Star had been traveling from the eastern Chinese city of Nanjing to the central metropolis of Chongqing. The ship capsized quickly but reportedly did not send out a distress signal during the event. News of the disaster was only reported by survivors who reached the shore, BBC reported.
The ship had been carrying mostly older passengers between the ages of 50 and 80, who were on a low-budget pleasure cruise down China's longest and most famous waterway. The ship's manifesto reportedly counted 406 Chinese passengers, five travel agency employees and 47 crew members.
Rescue efforts continued into Tuesday, however, China's official Xinhua News Agency reported heavy rain and strong winds were limiting their capability.
Both the ship's captain and chief engineer survived the crash and have been taken into custody for questioning by Chinese authorities. So far the men have not been accused of a crime. China's state newspaper, the People's Daily, reported some passengers could still be alive inside the ship.
Photos posted online show the scale of the disaster and the rescue work that lies ahead.
The disaster immediately drew parallels to the South Korean ferry Sewol, which went down in April 2014 en route from the city of Incheon to the island of Jeju. While the boat had sent out a distress signal, the captain was ultimately jailed for negligence after the catastrophe left hundreds of mostly schoolchildren dead.
For China, a country without a transparent legal system or a free press, reliable information regarding the Eastern Star and the true cause of the sinking will likely be more difficult to obtain. 
This is an ongoing story and this post will be updated.