Bernie Sanders Had a Great Response When Asked If He Would Consider Being Hillary's VP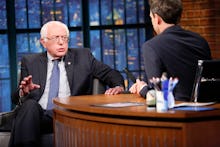 Despite his steady rise in the polls, Sen. Bernie Sanders (I-Vt.) remains a very distant second to frontrunner Hillary Clinton in the race for the Democratic Party's presidential nomination. In an interview with Yahoo! News, livestreamed on Monday, Sanders rejected the idea he is only taking part in the campaign to "push [Clinton] in a more progressive direction on a number of issues," as host Katie Couric put it.
"No," Sanders said. "My goal is to win this election."
Couric followed up with another question about Clinton:
Without missing a beat, Sanders shot back: 
Sanders and Couric spoke for nearly 40 minutes on a variety of subjects, ranging from the forthcoming vote on the USA Freedom Act — Sanders is going to oppose the bill because "it doesn't go far enough in protecting our privacy rights," he said — to unaccountable money in politics, which he promised again to combat by only nominating potential Supreme Court justices who would vow to overturn Citizens United.
As for the significant disadvantage his campaign will have on the fundraising end, Sanders was typically sanguine. 
"We will be outspent," he told Couric, "but I think we've got a good shot to win this thing."
You can watch the full interview here: