This Musician's Negative Response to Caitlyn Jenner Has Sparked Outrage Online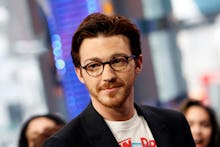 When Caitlyn Jenner introduced herself to the world Monday on the cover of Vanity Fair, the public response was overwhelmingly positive and even heartwarming. But not everybody understood the significance of the moment. In fact, some people seemed to be almost trying for an especially bigoted response. One musician and actor, Drake Bell, former Nickelodeon star of the TV show Drake & Josh, had the worst possible response. He tweeted:
He quickly deleted the tweet. But far from offering an apology, the child star followed up with, "Good thing social media has no effect on real life." Then, "I'm not dissing him! I just don't want to forget his legacy! He is the greatest athlete of all time! Chill out!" And finally, "Calm down children." 
His tweet illustrates exactly how not to respond to a transgender person's revealing her or himself. In addition to ignoring Caitlyn's request to be referred to by her name, Bell also ignored her preference of pronouns. Apparently "Call me Caitlyn" was just too hard to parse. 
The response isn't wholly surprising, especially given Bell's predilection toward belittling women. His single is called "Bitchcraft," which, according to his interview with Billboard, is "generally about everybody that I've ever dated." He played the song for groups of high school kids on the High School Nation Tour last year, which does not bode well for the youth of America. 
On the plus side, most people were quick to support Caitlyn, including Bell's Drake & Josh costar and onscreen brother, Josh Peck.
As Janet Mock pointed out, there's nothing more disrespectful to Jenner than using the wrong pronouns. Bell may be ignorant about these issues, but it doesn't take a lot to listen to someone. This is a historic moment. Jenner doesn't need Bell dragging her down.
h/t Billboard