The Netflix Ad Rumor Is Mostly False, So Relax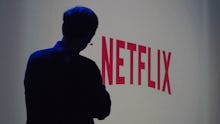 Everyone hates ads, which is why it's so refreshing that Netflix is an oasis of pure entertainment in an endless sea of pre-rolls, banners and sponsored content.
But on Monday, when it was reported that advertisements would roll out across the platform, playing before and after movies and shows, the Internet broke out in panic. "Everything we love will someday die," one reporter wrote.
But by the end of the day, Netflix was issuing statements that everyone got the story wrong.
Instead, Netflix is simply testing out short trailers promoting Netflix-exclusive shows. CEO Reed Hastings wrote on Facebook, "No advertising coming onto Netflix. Period. Just adding relevant cool trailers for other Netflix content you are likely to love."
And in a statement to Gizmodo, a Netflix representative wrote,
We are not planning to test or implement third-party advertising on the Netflix service. For some time, we've teased Netflix originals with short trailers after a member finishes watching a show. Some members in a limited test now are seeing teases before a show begins. We test hundreds of potential improvements to the service every year. Many never extend beyond that.
Would it be so wrong of them to run ads? The Internet has two great business models: advertisement-supported services, and premium services you pay for regularly. Netflix is obviously the latter, so if it also ran ads, it would seem like the company was double-dipping. Imagine if Spotify, after you already paid $10 a month to hear zero ads, suddenly reintroduced them. Or if Fox left the commercials in your DVD set of Empire.
HBO, to which Netflix is often compared, has the same model of promoting its shows. It occasionally runs short trailers for other original films; you've likely seen teasers for Dwayne Johnson's new show, Ballers, before Game of Thrones.
It's already easy to discover new stuff on Netflix. Right now, Netflix hardly needs to run trailers for its own shows. Unlike cable, Netflix is built on a giant recommendation engine, constantly feeding subscribers new suggestions based on their preferences. But Netflix is apparently experimenting with how to get its brand-new shows — of which there will be dozens in the coming years — in front of its devoted audience. At least as much as the media will let them get away with.
h/t Gizmodo