Houston Just Became the Biggest City in America to Eradicate Veteran Homelessness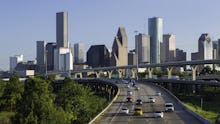 Houston Mayor Annise Parker announced Monday the city had eliminated chronic homelessness among veterans, making it the largest city in the U.S. to achieve the milestone.
The Democratic mayor's office said the city "has housed over 3,650 homeless veterans in just over three years, and has the resources to house every homeless veteran (or those at risk of homelessness)."
Houston, the fourth most populous city in the nation and the host of the second biggest veteran population, is the latest city to end homelessness among its veteran population as part of a nationwide push known as the Mayors Challenge to End Veteran Homelessness coordinated by the federal government. Phoenix, New Orleans and Salt Lake City have been able to achieve the same results with their veteran homeless residents in recent years.
"Too often those that answered the call of service still find themselves struggling long after leaving the military," Parker said in a statement. "From regular provider coordination meetings and aligning local and federal resources, to dedicated street outreach teams and a coordinated assessment system that identifies, assesses, refers and navigates homeless veterans to housing, the Houston region has come together as a team to transform our homeless response system to effectively end veteran homelessness."
How they did it: The city's efforts were also part of a regional campaign led by the Way Home, a nonprofit that advocates for and organizes permanent supportive housing and systems designed to identify urgent need.
"Housing first" initiatives have proven effective in a number of cities across the country, and they are responsible for the success of other city initiatives to end homelessness among veterans. The policy is premised on the idea that anchoring a homeless person with housing is a prerequisite for helping them solve the problems that led to homelessness in the first place. "Housing first" is so cost-effective that it has won the endorsement of some conservatives — in fact, federal investment in the policy began during the Bush administration.
Secretary of Veterans Affairs Robert McDonald praised the effectiveness of this strategy in dealing with Houston's homelessness problem Monday, saying the city now has a "system capable of consistently responding to a large steady state volume of veterans who experience housing instability, helping them rapidly return to permanent housing."
"Today, every homeless veteran in Houston has a permanent housing option available to them," he said in announcing the news.
What remains to be seen is how much the success of ending homelessness among veterans will eventually benefit the non-veteran homeless, who tend to fade from view in these conversations. But they need the assistance just as badly.
h/t Huffington Post