This Is How Bob Marley's Pot Brand Is Trailblazing the Cannabis Industry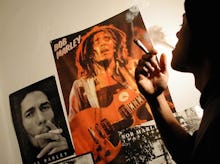 Bob Marley and cannabis are almost synonymous — in some places, "Bob Marley" is the street name for pot. So, it was almost an inevitability these two would one day be formally united. That day came in November 2014 when Marley's family and private equity firm Privateer Holdings announced the creation of Marley Natural, the world's first international cannabis brand.
Marley Natural is reinventing the cannabis industry from something informal and clandestine to professional and sleek. The brand is more than a cannabis distributor. It is developing a wide range of products derived from the plant — including lip balm, body lotion, hand cream, serum and edibles, to name a few — along with all the paraphernalia one could ever need.
The new-age dealer: At its official launch at the end of the year, Marley Natural will start selling roughly three to five strains of smokeable cannabis, along with innovative new products derived from cannabis. They will distribute these to dispensaries in states where recreational cannabis is legal. 
Some of these new products will feature infusions of CBD, THC or both, the psychoactive compounds that produce a high, while others will not include psychoactive ingredients. There will be a range of options from THC-infused cream for an epidermal high, to innocuous hemp seed oil, which will only leave the consumer feeling moisturized (and not high). 
One of the things that makes Marley Natural different is its accessories. Not only is the company selling cannabis in different forms to be consumed, but it's also selling the products people use to consume them, putting them in the unique position of potentially controlling both distribution and means of consumption. 
"We'll be offering an accessories collection. Not just things like vaporizers, pipes and storage containers, but ceremonial and lifestyle accessories, too," Tahira Rehmatullah, general manager of Marley Natural, told Mic. This is one of the crucial ways the company is building its brand, setting itself apart in the process.
"They'll have a modern and sleek look very much in line with the DNA of Marley Natural. The attraction will be in the design itself: We look at them as pieces of art versus just a pipe, for example. There are hundreds, if not thousands, of these products out there, which are a little shady," Rehmatullah said. Marley Natural intends on destigmatizing cannabis in the process. "We want to make products that you would feel very comfortable having on your bedside table," Rehmatullah said.
While Marley Natural's accessories and smokeable cannabis will be rolled out at the time of their official launch, they will initially be more cautious and restrictive about how they sell their newer products, specifically the CBD- and THC-infused creams, oils and edibles. The law regarding the sale of these types of products is more opaque than that of cannabis in its pure form, Rehmatullah said. For legal reasons, only accessories and products that won't produce a high will be sold on their website; the rest will be distributed to be sold in brick-and-mortar stores.
Ahead of the game: Privateer Holdings were one of the first firms to really understand the cannabis market, and in preparation for Marley Natural, the founders started the legal and business legwork five years ago. 
"I think one of our competitive advantages is that Privateer set up to really understand this market and this space. We met with lawyers and activists and political campaigners and patients and growers and really built a network of people to fully understand the marketplace," Zack Hutson, public relations director at Privateer Holdings, told Mic.
Cannabis is recreationally legal in Washington, Alaska, Colorado and Washington D.C., with medicinal cannabis legalized in 20 more states. The laws vary by state, both in how it can be grown and how it can be sold, making it potentially difficult to ensure a cannabis company is always operating within the confines of the law.
"It has taken awhile to figure out but I feel like we have a good sense of how this can work and how we can build a national brand by working with local growers in different states and in different countries, but still assuring they meet our quality standards and brand standards," Hutson said. 
Privateer Holdings invested considerable resources into understanding this legal landscape in order to dominate the market and make the best decisions possible for the company. 
"We really have the benefit of being the movers in the industry, who really took the time to learn the nuances of all the markets," Rehmatullah said. "We've traveled the world, understanding how different governments function, how they're looking at this, what the forward looking opportunity is, and we continue to do that."
Marley Natural is constantly in dialogue with their growers, the country's policymakers and lobbyists, allowing itself to evolve with the laws. But Hutson and Rehmatullah also said everyone in the industry is confident the end of prohibition is imminent. Marley Natural also has the unusual advantage of pioneering a market which everyone knows there's a demand for. 
"There's no risk these products won't resonate with the market place. We believe cannabis is a mainstream product consumed by mainstream people," Hutson said.
A family affair: Marley's children are playing a hands-on role in the development of this brand. "The family has been great to work with and involved in a number of levels. They're thinking about design and really how to position the brand because they want to preserve the life and spirit of their father," Rehmatullah said.
The Marley family has met with Privateer employees in Jamaica on a number of occasions as they develop the company. Jamaican ministers are also involved in the project, in order to integrate the country into the company, through ethos and in the actual production of Marley Natural accessories. 
"My dad would be so happy to see people understanding the healing power of the herb, he's smiling right now at what's really happening," Marley's daughter, Cedella, told Caribbean Life News after her company was announced.
America must brace itself for a change. What was once the business of college students furtively showing up at one's doorstep with a backpack full of pot, is soon to be dominated by a sleek, international brand to be found in mainstream stores. Whether consumers choose to get high with THC serum and Perrier or a fancy, Marley-approved vaporizer, the world of weed is about to be shaken up like never before.