11 Amazing Pop Musicians You Won't Hear on the Radio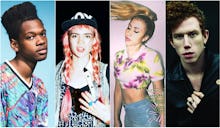 Pop is, perhaps, the strangest genre we have. The name itself hearkens to the days when all pop conformed to the same simple bubblegum melodies and formulaic structures. Now, though, the Billboard Hot 100 is a record of the most popular songs in each of the many popular genres — from the R&B and hip-hop of songs like "Trap Queen" by Fetty Wap to the old-school soul of Bruno Mars' "Uptown Funk" and the pop-EDM of "Hey Mama" by David Guetta featuring Nicki Minaj. The only thing that distinguishes pop anymore is its effect: That catchy, irresistible nature that attends all great pop songs.
That means a lot of musicians who make great pop music don't get pushed on the radio in quite the same way as the major label pop fare. Here are 11 artists who make great pop music, even if you don't hear it on top 40 radio:
Erik Hassle 
This young Swede trained at the same school where pop star Robyn paid her dues, and his hard work is paying off. Though he grew up listening to soul music, a style evident in his own output, his training changed his direction. 
"The school reintroduced me to pop — a lot of stuff I had forgotten about or just missed, like Depeche Mode, Radiohead, Joy Division," Hassle told Interview. "I've always wanted to sing the soul I grew up with, but I was really blown away by these amazing minimalist elements in pop songs." His newest single, "No Words," is proof of his facility with a soulful, catchy sound. He's sure to join Sweden's history of producing great pop before long.
Yelle
Though Yelle have been around for a decade and have long been a force in French pop music, they haven't fully broken through to American audiences yet. But that's been changing ever since the trio hooked up with superstar producer Dr. Luke in 2014 for their record, the well-regarded Complètement Fou. 
"We didn't know who he was," frontwoman Julie Budet told Billboard. "In France, nobody knows the name Dr. Luke because nobody cares who is making the music. They are more into the artist, but not into the producer." In any country, it's hard to resist these beats.
Grimes
Grimes, whose real name is Claire Boucher, is a synth-pop goddess with a penchant for flair. "Like Boucher, who's a thin wire of nervous energy," W magazine wrote. Her "songs are frenetic, with odd musical references ranging from Enya to Björk to Mariah Carey."
The singer herself calls her brand of pop "ADD music." Boucher has a new album, her fourth, coming this fall, after she scrapped her last album save one song. "I approach music — and this sounds crazy — as though I'm Phil Spector," Boucher told Pitchfork. "And I'm cranking out these pop stars and forcing them to do all this crazy stuff — except they're all me."
CL 
Already a huge deal in her native country, the South Korean pop star/rapper is now starting to make waves in America. And her recent appearance alongside Diddy and Skrillex at Ultra Music Festival in Miami got people talking. 
Thanks to her fantastic live shows, CL caught the eye of Scooter Braun, the manager behind Justin Bieber and Selena Gomez, and expectations have only gotten bigger. "Though nothing from across the Pacific has been able to match the ubiquity of Psy's 'Gangnam Style' in the U.S." Time magazine wrote, "CL could be the artist to show America that K-pop is much more than a viral phenomenon when she strikes out on her own."
Shamir 
This young Las Vegas native just released his debut album, Ratchet, and the music world is abuzz. Everyone from the New York Times to Pitchfork to NPR is singing his praises, and for good reason: He has a unique sound and an even more unique image. His brand of pop is potentially revolutionary, and his debut album has cemented his spot as one of the most promising young artists pop has seen in a long time. 
"I thought I'd have to work hard to prove myself," Shamir told the New York Times. "Before this, people used to make fun of the music that I did. They used to make fun of my voice. Now it's a thing that people talk about."
Kali Uchis 
Colombian native Uchis is another artist who's shaking up what pop music stands for. "Uchis' brand of pop blends decades and styles to create something more energizing and feel-good than a breakfast smoothie," Noisey wrote. But what she's doing is more than just tasty — it's filling. Unlike many other pop musicians today, Uchis controls everything from production to songwriting to music video production. 
"I have my own vision for myself and my music, I have my own vision for the world and there are a lot of people who don't have that," Uchis told Dazed. "My entire life I have questioned everyone's perception of 'normal' or 'cool.' Free thinking and the power of visualization and creativity are the most beautiful things God could ever have given me and it would be disrespectful to not utilize those gifts."
East India Youth 
East India Youth is British electropop musician William Doyle. His recently released sophomore album earned rave reviews, and put him in a class of pop musicians who are striking out into new territory. "Doyle is an artist who evidently doesn't see an unabashed love of pop music as antithetical to experimentation," the Guardian wrote. And that twin love of the strange and the catchy shines through on his best work.
The young musician told the Quietus, "You're totally at the mercy of how your creativity decides it is going to be on a particular day or a particular month or a particular year or a particular part of your life and how much that can get in the way of everything else. But you don't trade that. You wouldn't trade that at all."
Sam Dew
Chicago-based Dew isn't new to the music industry; he wrote hit songs for such impressive clientele as Rihanna, Usher and Wale before striking out on his own. But the singer-songwriter, who previously headed up the indie-rock outfit Cloudeater, is gradually introducing himself as a solo force in pop music. His debut EP, the cleverly titled Damn Sue, is already earning great reviews. 
"For me, songs are just moments," Dew told Vibe. "They're glimpses so when I'm on stage, I do my best to recreate that moment that we felt when we were in the studio, making the music and trying to find a way to translate that live."
Galantis
Swedish electronic musicians Christian Karlsson (of Miike Snow) and Linus Eklöw (of Style of Eye) make up the electropop duo Galantis. Karlsson was one half of famed Swedish songwriting and production duo Bloodshy & Avant, the team behind Britney Spears' career-relaunching "Toxic."
They released an EP of remixes in early May, and have since been rising stars on the Billboard + Twitter Emerging Artists chart. They're touring now, and according to a recent Reddit AMA, they'll be releasing new tunes soon. "We're in the studio almost everyday, so we've got tons of new stuff we wanna put out," Karlsson told Revolt. "It's almost hard because [we] kinda need to slow it down a bit and let people hear our EP."
Little Boots 
Little Boots, aka British electropop singer-songwriter Victoria Hesketh, recently announced she'll be releasing her third full-length album in July, and expectations are already high. Her previous album, Nocturnes, was named the 2013 album of the year by the Guardian, so the pop songstress has much to live up to with her forthcoming release. 
"So many people tell me 'You're too cool for the pop kids and too pop for the cool kids,'" she told the Independent. "For me, success is making music that my fans like, getting new fans and being able to keep doing this."
Lion Babe
Lion Babe are an experimental pop duo from New York City's Lower East Side. Lucas Goodman and Jillian Hervey made up the band, whose 2012 debut single "Treat Me Like Fire" set the duo ablaze. They're still fairly underground though, because they have yet to release a their full-length. Their debut LP is expected to drop sometime later this year.  
"There is an uplifting theme that comes through our music," Hervey told Interview. "There's also funk, soul, and that vibe of really feeling a personality in it. Nowadays there's a lot of music that sounds super processed. You can't tell one singer from the next because of the amount of auto-tune. 
"Our goal is to tell the masses to embrace their uniqueness, because I think that's where life starts to happen."