These Photos Show the Inspiring Women Building America Decades After Rosie the Riveter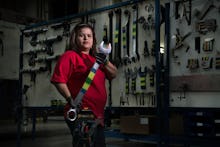 One of the most iconic images of the American worker in the 1940s was a woman. With her red bandana and a curled bicep, one figure who came to be known as Rosie the Riveter represented the efforts on the home front during World War II to manufacture machinery for the war effort, declaring, "We can do it!" 
But fast-forward to 2015, and the tiny representation of women in manufacturing (let alone finance, tech and business) is embarrassing. While men gained 535,000 manufacturing jobs in the U.S. between January 2010 and February 2013, women on the whole lost 18,000 jobs in the industry during the same time period, according to a National Women's Law Center report. Today, only 13% of the workforce in the American transit manufacturing industry is female, according to new research by the University Southern California Program for Environmental and Regional Equity.
These figures inspired the Jobs to Move America campaign to launch Women Can Build and a photo series called "Re-Envisioning Rosie." The project showcases "America's modern 'Rosies,' who are both fierce and beautiful and capable of building things like trains," Madeline Janis, the project's director, told Mic.
Pulitzer Prize-winning photographer Deanne Fitzmaurice shot photos of these "modern-day Rosies" in a "pure documentary style" to "capture [the] inner strength" of her subjects," she writes in a statement. "I hope to bring attention to the gender inequality in this sector to start a dialogue, which will lead to increased opportunity for women."
The subjects in the photos want to buck long-held stereotypes about women and strength. Many people who are "old-fashioned and set in their ways" still don't consider manufacturing an acceptable field for women, welder Chancy Davis told Women Can Build. "I want to show them that people can do whatever they set their mind to, by being a living example of this."
Interior assembly foreman Ami Ramussen noted that women often internalize these stereotypes. "Women might think they can't lift anything heavy, but they'd be surprised that they can do this!" Ramussen told Women Can Build. "Better than half the guys! Smaller hands can even reach the components better."
But even when women overcome these stereotypes and enter the field, they often face discrimination. Women at the factory where Donna Comp Penwarden works "stay at the low-skilled jobs," she told the project, and are "given the runaround" when they ask for training. "I do feel if they [managers] are going to promote a woman, it'll be one for appearance only: 'Look, we promoted a female in a job that has no authority.'"
It's this reality that the Women Can Build project hopes to tackle head on. Janis told Mic the campaign's aim is to influence global manufacturers to "hire, train and retain a lot more women into their factories. And we want those companies to create a better and more supportive work environment for women."
While this project was created to inspire individual women to enter the field — and to push for more acceptance of them once they do — it's also about something bigger. 
"Unless we are proactive and encourage and support women coming into the transit industry, we're hurting ourselves by reducing our hiring pool," Beverly Scott, general manager of the Massachusetts Bay Transportation Authority from 2012 to 2015, told Women Who Build. "It's unacceptable that we, as an industry, would block our own interests by failing to address this issue head on."
"We as a society have to be reminded that your gender doesn't determine your talents, skills, or interests," she added. Ultimately, campaigns like these do much to "provide encouragement and a feeling of solidarity for women working in a male-dominated field, which helps you feel a little less alone." 
"We want girls and young women in America to see themselves as mechanical and able to build anything they set their minds to," Janis told the site. "We want Rosie to have a permanent place in America's vision of itself."
h/t Bitch