How Fox Is Spinning the Duggar Scandal Ahead of Its Wednesday Interview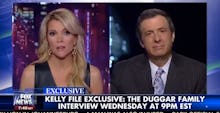 On Monday, Fox News anchor Megyn Kelly offered some insight into her upcoming Wednesday interview with Duggar parents Jim Bob and Michelle regarding the Josh Duggar child molestation scandal. Josh, formerly a star of the TLC reality show 19 Kids and Counting, suffered a dramatic fall from grace after police reports emerged saying he sexually molested a number of underage teenage girls, including his younger sisters, 12 years ago.
If Monday's segment was any indication of what Kelly will discuss Wednesday night, it seems the tone will be sympathetic to a family that's been attacked by the liberal media rather than focused on a man who committed several acts of sexual molestation.
After an introduction from Kelly, Fox reporter Trace Gallagher did a short story on the Duggars as a preview for Kelly's upcoming interview. The segment leaned heavily on more positive background information on the Duggars, which included mentions of their previous use of birth control, Jim Bob's brief political career and how the family were devout Christians. 
It took Gallagher roughly half-way through the story to finally mention, "Their family values system took a hit when a report surfaced about the oldest child, 27-year-old Josh Duggar," before quickly moving on to happy footage of Josh watching a sonogram. The full scope of the allegations wasn't addressed until roughly the end of the three minute explainer. 
As the segment moved on, Kelly wasted no time weeding through the liberal spin over the Duggar story, which she referred to as feasting on a "carcass." 
Speaking with Kelly, Fox media analyst Howard Kurtz said that far from the sexual assault, the real outrage was how sealed criminal records were leaked to the media because obviously, the real victim here was Josh.
Aside from minimizing the suffering of molestation victims everywhere, the Kelly and Kurtz exchange added a particularly destructive element by conflating legitimate criticism of Duggar with unfair media bias. Saying the media focus should be on improper release of court records rather than the victims is a naked attempt to generate sympathy for a man who committed a terrible crime and never faced punishment.
The segment is only the latest attempt in conservative circles to downplay the crimes Duggar committed and his family's subsequent efforts to cover them up. Shortly after the scandal broke, former Arkansas governor and former Fox host, Mike Huckabee, took to Facebook to offer an impassioned defense of Duggar, saying, in essence, the charges were excusable because Duggar had atoned and "Good people make mistakes."  
The news of Duggar's sexual impropriety broke shortly before Memorial Day weekend and reverberated far beyond the family, leading to Duggar's resignation from an executive director position at the religious lobbying (and hate) group, the Family Research Council. The scandal also caused TLC to pull the show after as many as 20 sponsors withdrew their ad time.