FIFA President Sepp Blatter Resigns Amid Ongoing Bribery Scandals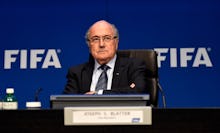 After being re-elected as president of FIFA on Friday, Sepp Blatter announced his resignation on Tuesday, when it was affirmed he is now the focus of an ongoing FBI investigation regarding the organization's corruption, previously restricted to nine other former and current FIFA officials. 
Blatter made the announcement during a press conference on Tuesday.
The announcement comes after the revelation that one of Blatter's top deputies, Jerome Valcke, transferred $10 million in bribe money during South Africa's bid to host the World Cup.
On May 27, seven high-level FIFA officials were arrested in Switzerland after an FBI investigation culminated in 47 indictments from the United States, regarding "racketeering, wire fraud and money laundering conspiracies, among other offenses," according to the Department of Justice. 
"While I have a mandate from the membership of FIFA, I do not feel that I have a mandate from the entire world of football ... Therefore, I have decided to lay down my mandate at an extraordinary elective Congress. I will continue to exercise my functions as FIFA President until that election," Blatter said in the news conference. His replacement will probably be chosen between December 2015 and March 2016.
During the South Africa's bid to host the 2010 World Cup, $10 million was allegedly transferred from a South African soccer official's account to Jack Warner, one of FIFA's vice-presidents at the time. It is alleged Jerome Valcke, Blatter's top deputy, then transferred the bribe money to a different account.
FIFA is also facing accusation of bribes for awarding the 2022 World Cup to Qatar, which has come under further scrutiny as approximately 1,200 migrant workers have died in Qatar since the decision was made in 2010.
The different forms of corruption are diverse, from the organization successfully exempting itself from any taxes to forcing host countries to amend their laws in order to accommodate FIFA sponsors.
This is a developing story and will be updated.