Mariah Carey Is Mariah Carey-ing All Over Match.com Right Now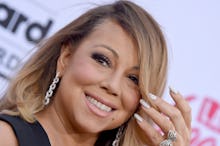 If you're a single man age 20 to 120 (sorry, 121-year-olds) seeking to date a woman within 50 miles of New York City, you may want to consider sending a "wink" to legendary pop diva Mariah Carey, who can be found under the username MC1toInfinity on Match.com.
The newly single 45-year-old mother of two debuted the video for her current single, "Infinity," on the site Tuesday morning. "I hope every woman who is single and listens to this song goes out and finds her infinity," Carey said in a statement, according to Us Weekly, "whether on Match or the traditional way."
It's fitting when you consider that Match.com is a character of its own in the clip — Mimi can be seen singing while swiping (as one does) through a number of potential suitors, including a shirtless Tyson Beckford (of "Un-Break My Heart" fame) and Empire hunk Jussie Smollett.
Between this and Hilary Duff's recent comments about her Tinder use, which turned out to be mere promotional lead-up to her Tinder-heavy video for her single, "Sparks," one wonders if a groan-worthy trend is afoot. Will more celebrities soon be invading our dating apps?
Recent developments in the Duff case suggest that we may have nothing to worry about. Just a few days ago, her camp released a Tinder-free version of her music video at the demand of frustrated fans who wanted a clip free of cross-promotion.
It remains to be seen how Mariah's Match.com endeavor will turn out, but if Duff's online dating/music video tie-in is any indication, we have a feeling it will ultimately be placed in the hands of her almighty fan-army, the "lambily."
h/t Rolling Stone