Why Katy Perry and Taylor Swift's Rivalry Is Actually Amazing for Music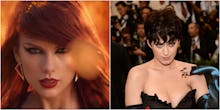 According to the pop rumor mill, there is some serious bad blood between Taylor Swift and Katy Perry. 
Swift is too much of a politician to name names, but it's all but certain that Swift's latest No. 1 single, "Bad Blood," was about Katy Perry. Fueled by rage over Perry's perceived back stabbings, it has proven to be one of the most compelling songs off Swift's 1989. And now, in full tabloid fashion, sources of suspicious origin are speculating that Katy Perry is set to fire back.
It may seem frivolous, but the historical precedent matches with the success of "Bad Blood." Rivalries typically produce great music. That's been true ever since the days of Mozart and the first celebrity musicians. And we haven't had a good pop rivalry in a while.
Revolution, redux: The Beatles versus Rolling Stones were a key early popular rivalry, but the Beatles and Beach Boys rivalry was actually far more creatively significant. After hearing the Beatles' Rubber Soul, Brian Wilson was immediately inspired to write an even greater masterpiece. He left behind his catchy surf-pop stylings to pen Pet Sounds, a heavily choral opus filled with hymn-like dirges and sophisticated instrumentation. It caused problems with Wilson's label, who were looking for a commercial rather than an artistic achievement. But the Beatles heard Pet Sounds and were then moved to produce Sgt. Pepper's Lonely Hearts Club Band in response, hat-tipping Pet Sounds by utilizing some similar sounds on Sgt. Pepper.
"I was jealous!" Wilson told the Daily Beast. "It was really just mutual inspiration, I think." 
Whether rivalry or jealous inspiration, the competitiveness between these amazing songwriters ended up producing some of the greatest albums of the '60s.
Brit pop: England, it seems, has always been fertile ground for rivalries; in the '90s, Blur and Oasis waged a very flashy creative war, battling for the title of biggest band in the world. They ran a media circus, taking highly controversial potshots at one another to promote their albums and singles. But the important battles were through the music. In 1995, the bands released dueling singles on the same day — Blur's "Country House" and Oasis' "Roll With It" — to determine who was more famous. Blur won the No. 1 song, but the rivalry overall produced many smaller competitions. Oasis won some stunning commercial accolades with songs like "Champagne Supernova" and "Wonderwall," while Blur answered such hits with their own "Song 2," which greatly expanded the possibilities of their sound.
Eventually, Albarn admitted defeat. "I think Oasis were better," he told Newsnight, according to International Business Times.  "They were better at communicating who they were than we were."
Hip-hop: Rap has obviously had its share of beefs as well. At the best of times, they've driven MCs to new lyrical heights. At their worst, they've cut careers short well before their time, as in the case of Biggie and Tupac. 
Jay Z and Nas had one of the longest running and most publicized musical beefs in the genre's history. On his diss track "The Takeover," Jay Z raps, "4 albums in 10 years, nigga? I could divide / That's one every ... let's say 2 / 2 of them shits was due / 1 was 'nah,' the other was Illmatic / That's a one-hot-album-every-10-year average."
But it was about even more than hot albums or sales — the rivalry produced a strong sense of artistry and social consciousness.
"It wasn't just about being the top guy in rap, it felt like we were leaders of nations, not that we were egos, egotistical as in 'I'm the leader,' no not in that sense," Nas told Zane Lowe in 2014, according to Hot969 Boston. "What you felt surrounding us was there was an importance in what we were doing that mattered more than just success."
The pop feud: Swift and Perry's battle has yet to become a full-fledged artistic rivalry. But from what little we can gather, Swift seems determined to use their rivalry as creative inspiration, rather than a headline grab.
"I know people are going to obsess over who it's about, because they think they have all my relationships mapped out," Swift told Rolling Stone about "Bad Blood." "But there's a reason there are not any overt call-outs in that song. My intent was not to create some gossip-fest. I wanted people to apply it to a situation where they felt betrayed in their own lives."
If Perry ever were to write a song in response, it would have to be even catchier and more anthemic than "Bad Blood" to compete. Nobody knows what's to come or even what's really happening, but that is a prospect worth getting excited about.