This Summer, Caitlyn Jenner Will Have a Watershed Moment for Trans Athletes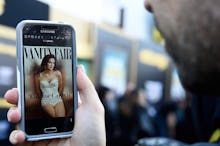 Caitlin Jenner proves: Once an athlete, always an athlete. 
Jenner will be the third consecutive openly LGBT person to receive the Arthur Ashe Courage Award this July at the Excellence in Sports Performance Yearly Awards, following football player Michael Sam in 2014 and Good Morning America anchor Robin Roberts in 2013. Jenner remains active as a golfer, but she was first known worldwide for her incredible efforts in the 1976 Olympic decathlon.
ESPN executive producer Maura Mandt said Jenner "has shown the courage to embrace a truth that had been hidden for years, and to embark on a journey that may not only give comfort to those facing similar circumstances, but can also help to educate people on the challenges that the transgender community faces."
While Jenner's high-profile announcement that she identifies as a transgender woman probably hasn't been the easiest to make, her past as an Olympic athlete may shed light on roadblocks some transgender people face, especially young athletes. 
Trans visibility in sports: Jenner's legacy, prior to her relationship with the Kardashian family, has been mostly focused on her record-breaking Olympic performance, which rang in a moment of national pride in the middle of the Cold War during America's bicentennial year. Jenner's athletic abilities led to endorsement deals and a period as a race car driver in the 1980s. When Jenner first came out as a transgender woman in her interview with Diane Sawyer in April, Sawyer asked Jenner what she saw when looking at an old photo of herself competing in the decathlon.
"I see a confused person at that time, running away from my life ... with big time fear ... [I was] scared to death," Jenner said. "I didn't realize what my future held at that time."
These days, more young trans people are able to be open, but athletes still face hurdles when it comes to being able to compete or train with their peers. Zeam Porter, a Minnesota teenager and basketball player, gave an incredibly moving speech on the issue in December, as the state considered how to accommodate trans student-athletes.
"My love for basketball last year made me believe I could handle being on the wrong team," Porter said, according to the Huffington Post. "That was wrong. Constantly being misgendered and called the wrong name took away my soul. I already feel like I don't have my body — now I am soulless."
Ultimately, Minnesota joined a handful of states, including Maine, California and Illinois, with specific policies enabling trans students to play on teams that correspond with their gender identity. Of course, the opposing campaign questioned whether such a decision would be the "end of girls' sports" and promised widespread "gender confusion, inappropriate behavior in locker rooms and unfairness for female athletes" Media Matters reported in 2014. Sports directors in South Dakota, Massachusetts, Washington and Florida told Media Matters that no problems have been reported related to the trans-inclusive policy. 
When it comes to sports for women and girls, some express concern over any advantages transgender and intersex women may have over cisgender (nontrans) female athletes. Mixed martial arts fighter, Fallon Fox, who fought for five years before being forced to come out as a transgender woman in 2013, is working on a documentary called Game Face about transgender women and their athletic abilities. 
"I was built to be a fighter, to be a warrior just like Ronda Rousey was built to be a warrior, and [Caitlyn] Jenner is getting back to being the hardcore person, the warrior that [she] is," Fox told the Seattle Times last month. "[Caitlyn] and transgendered kids who are coming out today, they give me hope. And that's what this film Game Face does — gives hope and understanding."
So as Jenner accepts the Arthur Ashe Courage Award later this summer with all 10 of her children and stepchildren on stage with her, Jenner can act as a model of athleticism for trans people. 
"Being honored with this award, which is named after one of my heroes, is truly special," Jenner said in a statement Tuesday. "For the first time this July, I will be able to stand as my true self in front of my peers."
Most importantly, she can do what she told Diane Sawyer she planned to continue doing as a fully realized woman: "kick butt."