Stunning Images Show What San Francisco Looked Like Before Big Tech Gentrified the City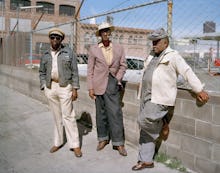 San Francisco.
Few cities have changed so rapidly in such a short amount of time. According to the San Francisco Chronicle, the median rent climbed to $4,225 this month, the latest milestone in a housing boom that saw rental costs in the city rise 13.5% in 2014.
Gentrification has rendered much of the San Francisco Bay Area unaffordable to former residents, with an influx of young tech professionals dropping unprecedented amounts of money on homes and peppering the landscape with flannel, beards, coffee shops and Google buses.
Janet Delaney has been around to witness most of this. In an exhibition on display at the de Young Museum, her photo project — Janet Delaney: South of Market — is fueling conversations around just how much has shifted, and what it means for the future of the city.
Long before Silicon Valley became the center of the technological universe — and in many ways, the region's culture more generally — there was the Moscone Center. When Delaney moved back to the Bay Area after time spent traveling through Central America in 1978, this convention space, which would eventually become a major tourism draw and the neighborhood's defining landmark, was nothing but a massive hole in the ground.
The region surrounding it was equally desolate and poor, Delaney told Mic. "It's sort of a convoluted history," she said, but the construction of the center "had required the removal of low-income housing in the area ... it sort of relegated the neighborhood to a slum, then brought the developers in."
Delaney set out to capture the communities that had survived this cruel process in the area South of Market Street, remnants of a larger, nationwide exodus that had "hollowed out America's cities" — both in terms of population and investment — and sent money fleeing into the suburbs over the mid- to late-20th century, she said.
It's not an unfamiliar story for the people experiencing these shifts there today. Tensions around gentrification in the Bay Area came to a symbolic head last year, when a YouTube video capturing a dispute between Dropbox employees and local kids at a soccer field in the Mission District went viral.
But while the process has been somewhat different in South of Market — Delaney suggests that, unlike the Mission, her former neighborhood was always a place marked by transition rather than generations of established families being removed — it remains a telling portrait of how rapidly things can change in the Bay. Where smaller business once owned, operated or peopled by the neighborhood's Filipino and black residents proliferated, now an upscale business district that bears little resemblance to its mid-century self exists.
This is not remarkable on its own — every city changes, and San Francisco is no exception. But one difference, according to Delaney, is the impact of geography. "San Francisco is a very finite space," she said. "So when change comes, it kind of sweeps through, and it's very visible."
The problems that accompany this change are inevitably myriad, she added: Unaffordable housing, increasing privatization and the fragmentation and elitism that comes with it. "It's a crisis," she said. "People who aren't high-income are having an impossible time finding a place to live."
But having witnessed so much of it shift over the past 40 years — and especially during the eight-year period she was photographing for South of Market from 1978-1986 — Delaney tries to take it in stride. New residents "are trying to get to know the city," she said. "A lot of them seem to get the importance of having a connection to where they live. People who live online, or in high-rise condos, who order in or eat at work, it's harder for them to get to know it.
"But the question becomes, will they vote? Will they show up to civic responsibility meetings? Will they help get more funding for art and social services? And how can we integrate the values of San Francisco with the energy and funds and capacity of these newly arrived 'immigrants?'"
None of this is set in stone. And as recent price surges indicate, there's little to suggest San Francisco will become a viable living option for those who've been forced out anytime in the near future. But the core of Delaney's project — capturing a particular time and place as a catalyst for discussing change and equality moving forward — remains a vital part of whatever comes next, and to spurring conversation around how to promote some sense of lasting equity in the city.
"I wanted to remind people that the old South of Market was real place," she said. "It wasn't expendable just because it [was] poor."
For more of Janet Delaney's work, visit her website, the South of Market exhibition at the de Young Museum or purchase her book, South of Market, at the Mack Books website.