Google's New Tool Wants to Count the Calories in Your Instagram Food Porn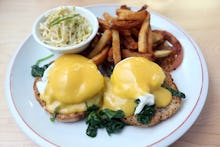 Food porn is one of Instagram's mainstays. Succulent steaks, crunchy vegetables, fluffy eggs, gem-colored cocktails — peruse the photo sharing platform even just briefly and dozens of shots of foodie-wet-dream material will pop up.
Now, Google wants to add an air of practicality to all that ogling. At last week's Rework Deep Learning Summit, Google research scientist Kevin Murphy presented the company's latest foray into artificial intelligence: a tool called Im2Calories that tracks the number of calories in images of food.
Using complex deep learning algorithms, Im2Calories would look at a still photo and take in the details — what kind and quantity of food is pictured and whether condiments are involved — to come up with a calorie estimation. It brings together pixel measurement and data records; in essence, it works by gathering food information and matching it with the data already on hand.
The technology comes courtesy of DeepMind, a company acquired last year by Google for $650 million. Murphy noted that Im2Calories was designed sans judgment; it's simply meant to make it easier for those watching their weight to keep track of what they're eating. 
Rather than recording each individual item separately, which is what many calorie-counting apps today require, the tool would capture the calorie count of an entire meal in one go. It also works with lower resolution shots, so you can save your Ansel Adams attempts for another day.
Of course, the prototype isn't perfect. Popular Science reported that during his presentation, Murphy noted there were corrective features in place, such as drop-down menus that could change fried eggs to poached. "If it only works 30% of the time, it's enough that people will start using it, we'll collect data, and it'll get better over time," he said.
But wait — don't get too excited yet: As various outlets have pointed out, calorie counting is a tricky concept, even without bringing relatively untested artificial intelligence into the mix.
A 2011 study in the New England Journal of Medicine found that the quantity of calories isn't important; rather, it's the quality of calories that matters most. "What you eat makes quite a difference. Just counting calories won't matter much unless you look at the kinds of calories you're eating," Dr. Dariush Mozaffarian, the lead author of the study, told the New York Times at the time.
And even the calorie counts themselves aren't always accurate. One study found that "prepared foods may contain an average of 8% more calories than their package labels own up to and restaurant meals may contain a whopping 18% more," Time reported in 2010. Moreover, for some kinds of difficult-to-digest foods, their calorie counts may actually be too high because they numbers don't consider the amount of energy it takes to process them. A 2012 study by scientists at the U.S. Department of Agriculture, for example, found that almonds have 20% less calories than originally thought.
In other words, even if Google's food detection algorithms are entirely, 100% foolproof, they may not be able to overcome the faults of the system from which they're pulling data.
Then again, food is just the beginning. According to Murphy, the technology could be used for things like cars and beyond.
"If we can do this for food, that's just the killer app," he said, according to Popular Science. "Suppose we did street scene analysis. We don't want to just say there are cars in this intersection. That's boring. We want to do things like localize cars, count the cars, get attributes of the cars, which way are they facing. Then we can do things like traffic scene analysis, predict where the most likely parking spot is."
When you look at it like that, the possibilities seem almost endless. "And since this is all learned from data, the technology is the same, you just change the data," he added.
While the food prototype isn't anywhere near ready to hit the markets yet — Google spokesman Jason Freidenfelds told CNET that Im2Calories is still in the research stage — the future looks, well, enticing.
h/t Popular Science