An Architect Is 3-D Printing This Enormous Estate Out of Dust, Sand and Gravel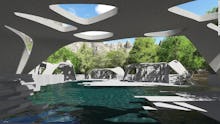 A quiet plot of land in upstate New York could soon be home to one of the most futuristic houses to date: a 3-D printed, 2,400-square-foot house with a swimming pool, jacuzzi and garage, made mostly out of sand.
New York-based architect Adam Kushner collaborated with Italian 3-D printing innovator Enrico Dini to design the enormous estate and have it constructed with a massive 3-D printer. According to CNN, the printer is stuck in Italy, waiting for military clearance before it can be shipped to the United States.
According to the D-Shape website, they'll use a binding process to print the pieces of the building, turning the raw materials — dust, sand and gravel — to a compact state with the 3-D printer. When that happens, the construction materials will become similar to marble.
If building a giant house of marble sounds like the purview of an eccentric oil baron, the company behind the design, D-Shape, claims its process will cost half the price of using cement. The building will allegedly come together four times as quickly, too.
3-D printed structures could provide essential housing for those in need. Kushner insists his building method could be used to help in underfunded public projects. 
"If we can build a simple pool house, I can print thousands of refugee housings," Kushner told CNN. "If I can build a pool, I can print underwater reefs ... to repair bridges, piers and infrastructures."
Since the D-Shape printer can print anything in a 6-by-6-meter cube, it could be used to print bus stop benches and fountains, aquariums, restoration parts for old bridges and columns and entire two-story buildings — at least in pieces. And if it can be done faster and cheaper, imagine the potential for building an entire city — parks, roads, shelters, homes.
But first, Kushner and Dini are starting with one New York estate, an impossibly cool-looking example of the bright future of cheap architecture.