Cameron Crowe Actually Apologized for Casting Emma Stone as an Asian Character in 'Aloha'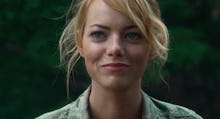 Say "aloha" to controversy, Cameron Crowe.
In addition to being a box office flop and nonsensical movie about the militarization of space, Bradley Cooper and Emma Stone's new rom-com Aloha also managed to offend whole swaths of the Internet. In the film, Stone plays Allison Ng — an Air Force pilot who is a quarter Hawaiian. Stone, of course, is approximately 1,000% white.
The Internet did not take this well. "Casting Emma Stone As Allison Ng in Aloha Should Have Been a Great White Nope," Vulture said. Jezebel's arts subblog The Muse went simpler: "Literally Why."
Crowe, the film's director, has heard the complaints, and in an apology posted to his blog Tuesday night, he owned up to his mistake.
"I have heard your words and your disappointment, and I offer you a heartfelt apology to all who felt this was an odd or misguided casting choice," Crowe wrote. He said the "joke," in fact, was supposed to be that her quarter-Hawaiian heritage doesn't show in her face.
Her "half-Chinese father was meant to show the surprising mix of cultures often prevalent in Hawaii," Crowe wrote. "Extremely proud of her unlikely heritage, she feels personally compelled to over-explain every chance she gets. The character was based on a real-life, red-headed local who did just that."
Crowe did offer some defense in how many jobs Aloha gave to people of Asian and Hawaiian descent on the set. But, ultimately, he took the fault: "Emma Stone was chief among those who did tireless research, and if any part of her fine characterization has caused consternation and controversy, I am the one to blame."
Crowe's apology seems sincere, and not like an attempt to settle a bad news cycle and move on. He also shouldn't be blamed for the history of Hollywood casting white men and women as characters of Asian descent stretching back to Mickey Rooney in Breakfast at Tiffany's. This should, however, be elevated as an example of what Hollywood does wrong even now, and how it can be fixed.
As Vulture's E. Alex Jung argued, the "twisted logic" is the real culprit: "Since there's a wide berth in the ways a person of mixed Asian descent could look, it would be fine, then, for a white person to play one of them." That kind of thinking can and should be stopped, and it's up to filmmakers like Crowe to take responsibility. Luckily, for his part, the director has learned his lesson.
"From the many voices, loud and small, I have learned something very inspiring," Crowe concluded in his post. "So many of us are hungry for stories with more racial diversity, more truth in representation, and I am anxious to help tell those stories in the future."