Elizabeth Warren Slams Top Wall Street Regulator Over "Broken" Promises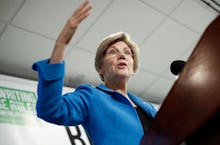 Sen. Elizabeth Warren (D-Mass.) isn't mad at the head of the Securities and Exchange Commission. She just thinks she's "extremely disappointing."
Wall Street's most vociferous critic released Tuesday a 13-page letter detailing her dissatisfaction with Mary Jo White, the chairwoman of the SEC appointed by President Barack Obama in 2013. Warren had reservations about White's experience at the helm of the regulatory agency tasked with policing Wall Street but voted to confirm her nomination. She now has some regrets.
"I am disappointed that you have not been the strong leader that many had hoped for and that you promised to be," Warren wrote in the letter addressed to White. "I hope that you will step up to the job for which you were confirmed."
Under White, the SEC has brought more than 1,400 enforcement actions, and last year ordered over $4.1 billion in penalties and recompense, according to the New York Times. But Warren writes that White "appears to have broken ... promises" made during her confirmation hearing and has been sluggish or ineffective in fulfilling her responsibilities on a number of counts.
The issue: Warren laid out four main concerns. The first is regarding White's failure to finalize new requirements that force companies to disclose the ratio of CEO to median worker pay. Second, Warren notes the SEC's pattern of granting waivers to companies guilty of criminal misconduct. Her third grievance is the SEC has settled most of its cases without requiring companies to admit guilt. Finally, Warren criticizes White's need to recuse herself from dozens of cases due to conflict of interest (White once worked at a "Wall Street defense firm," and her husband currently works at one, as Warren notes). 
The White House defended White as a tough enforcer, and White rejected Warren's accusations.
"Senator Warren's mischaracterization of my statements and the agency's accomplishments is unfortunate," White said in a statement reported by NPR. "But it will not detract from the work we have done, and will continue to do, on behalf of investors."
This isn't the first time Warren has set her sights on financial regulators over the past year. The most notable example is Antonio Weiss, who withdrew from the nomination process for the third most powerful position at the Treasury Department in January after Warren successfully scuttled his chances over his history as an investment banker. Weiss is now an adviser to the department, a less prominent position than he was originally considered for.
Warren's letter also underscores the unique role she possesses as a senator rather than as a presidential nominee, which would likely compel her grow less targeted in her criticisms of Wall Street. With Bernie Sanders out on the campaign trail making the rhetorical case for a reined-in financial sector, Warren can afford to get her hands dirty focusing on one issue at a time.