One Shocking Stat Reveals How Close Most Americans Are to Financial Catastrophe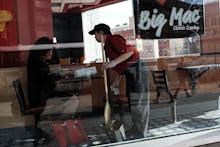 A study from the Federal Reserve suggests reports touting the strength of the post-"Great Recession" economic recovery have been greatly exaggerated.
The fed's "Report on the Economic Well-Being of U.S. Households in 2014" found that 47% of Americans say they "could not cover an emergency expense costing $400, or would cover it by selling something or borrowing money."
According to analysis from AllGov, "14% said they simply couldn't cover [the $400]. Another 10% would have to sell something, 13% would have to borrow money from a friend or relative and 2% would have to resort to a high-interest payday loan."
"Payday loan companies are one of the few groups of lenders that may actually be thankful for the financial crisis," the Financial Times wrote in 2011, explaining that with traditional lenders retreating from the market in the aftermath of the 2008 bank bailouts, even less strictly regulated and often predatory entities stepped up to meet borrowers' short-term needs.
The outlook was especially bad for households with an annual income below $40,000. The Federal Reserve says more than two-thirds of respondents from that group would require a loan or have to sell something to pay off an unexpected $400 charge, or wouldn't be able to cover the expense at all.
Census data for 2013 puts the median income for U.S. households at $52,250. Twenty-one states report their median coming in below $50,000, with Mississippi bringing up the rear, at $37,963.
When pollsters opened up the question and asked how much respondents could comfortably pay without digging themselves deeper into debt, more than 38% said "under $100." More than 56% topped out at just $199.
Given these numbers, it is little surprise that nearly 4 in 10 working Americans "have given little or no thought to financial planning for retirement and 31% have no retirement savings or pension," according to the survey. 
With the most deeply indebted college class in U.S. history hits the workforce and Congress unable to craft a workable plan to mitigate the coming crisis, expect that $400 — and the most basic sense of financial security — to drift even further out of reach.