3 Images Capture Caitlyn Jenner Feeling the Pressures of Womanhood for the First Time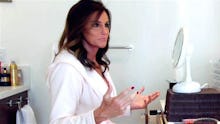 "I'm the new normal," Caitlyn Jenner says in the first trailer of her eight-part one-hour E! series, I Am Cait, which begins July 26.
It is the second time in modern history — after Chaz Bono's 2011 Becoming Chaz — that the world has been given such intimate access to a person's transition. The more declaratively titled I Am Cait, however, presents us with a much more nuanced analysis of gender, the meaning of gender and culture and what it means to be a woman in the world.
In the promo, Jenner talks candidly about how she's beginning to learn about "all the pressure women are under all the time about their appearance." Indeed, if the way Jenner expresses herself as a woman is influenced by our culture, it is no doubt that Jenner — especially while surrounded by the beauty myths of Hollywood, and the Kardashian/Jenner women — feels that pressure greatly.
At the same time, audiences can feel Jenner's joy at finally being free to be the person she always felt herself to be. "How many people go through life and just waste an entire life because they never deal with [themselves]?" she says. 
Back to normal: In the trailer, when Jenner ventures outside of her Malibu, California, compound with a friend, she posits the immensity of this feeling of freedom in the context of being normal and feeling normal. "It's so bright out there," she says. "Isn't it so great that some day you'll be normal?"  
Immediately, she catches herself, when her friend chimes in, "You are normal." Jenner replies, "Put it this way,"
Watch the full trailer, below:
First promo for 'I Am Cait'
Source: E!