Watch the Heartwarming Moment a Teen Girl Reunited With the Soldier Who Saved Her Life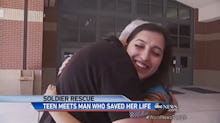 Lava Barwari didn't have an average high school graduation. During commencement ceremonies at Mill Creek High School in Hoschton, Georgia, Barwari enjoyed a reunion 19 years in the making with the U.S. soldier who saved her as a baby in Iraq. 
Back in the mid-'90s, Barwari's mother, Awaz Barwari, was on Iraqi dictator Saddam Hussein's "kill list" because she is a Kurd, an ethnic minority being targeted at the time. Awaz Barwari was fleeing the country, but when she made it to the Iraq-Turkey border, Iraqi officers told her she could not bring her baby, as only the mother was on the "kill list."
"He actually pointed to the window and said, 'You can toss her to somebody who can deliver her to your family,'" Awaz Barwari told the Gwinnett Daily Post. "She's not a sack of potatoes. I'm not giving her to anybody. That's my baby. That's the whole point why I'm leaving my country and my mom behind."
Greg Pepin, a U.S. soldier at the time and reportedly the only American at that border crossing, overhead the commotion and came to the rescue. After asking the young mother what her baby's name was, he said, "'That's a beautiful name, but today, that's not her name. Her name is Greg Pepin,'" according to Barwari. 
"I said, 'My name is Greg so if the baby's name is Greg it's got to be a relative and that means she can go,'" Pepin told local television station WPVI.
What prompted this emotional reunion? One of Lava Barwari's language arts assignments prompted her to share her mother's story. While completing the assignment, Barwari embarked on a monthlong search for Pepin's contact information and eventually wrote a heartfelt email him, thanking him for saving her as a baby.
"It's an honor for me to be here and see a family like this be a success," Pepin told the Gwinnett Daily Post. "This is not a one time (thing). They're stuck with me." Pepin, who is now in his 70s and retired from Boeing, said he would always be there for any support the family might need.
"He's always going to be part of our lives because he's responsible for the new life we have," Awaz Barwari told the Gwinnett Daily Post. "If he hadn't saw us in five minutes, we wouldn't have lived in the United States and lived a different life."
Why were the Kurds targeted? After World War I, Kurdistan was wiped away, leaving the Kurds without a home. Since then, Kurds have lived in Iraq, Iran, Turkey, Syria and a number of smaller Central Asian countries; it's estimated there are up to 40 million Kurds around the world. 
The campaign for a Kurdish autonomous region has been most successful in Iraq and has intermittently threatened the country's unity. In retaliation, Hussein targeted separatists and politically active or suspicious Kurds in the '80s and '90s, which is why the Barwaris fled the country. 
Since the Iraq War and subsequent fall of Hussein, the threat of a Kurdish region splintering off and breaking up Iraq only increased amid the disorder. However, a new central government in 2014 made overtures to the Kurds in an attempt to repair relations. This alliance was buttressed when both sides united in order to defeat the Islamic State group. 
Kurds have had a complicated history with Iraq, but more recently their future is starting to look brighter as they're given more of a voice. The same can be said for the Barwaris.