Showtime to Offer Stand-Alone Subscriptions for Cord-Cutting TV Viewers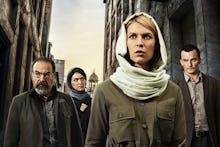 Homeland fans without cable, do not fear: Showtime is preparing a new service for cord-cutters everywhere.
The network announced in a press release that, like HBO Now, Showtime will offer a stand-alone subscription service starting in July. It will cost $10.99 per month to stream any of Showtime's original shows, on-demand movies and more. That's less than HBO Now's $15-a-month fee, though like HBO's service, Showtime's cord-cutting option is rolling out first on Apple devices like the iPhone, iPad and Apple TV.
While Apple products will be the first to support the new service, the press release stated there will be other platforms announced soon. Series in the Showtime library include the aforementioned Homeland, old favorites like Dexter and Weeds, and modern hits like Penny Dreadful and The Affair.
These stand-alone services are becoming more and more popular for networks fighting a generation of cord-cutters averse to cable and turning to online piracy to watch their shows. While the question of whether or not these streaming services are cheaper is still up for debate, it's still an incredibly prevalent practice. Showtime getting in now is smart, particularly when sister network CBS did the same recently.
Users signing up for the service when it first launches will get access to a 30-day free trial. The service will debut in July, just in time for the season three premiere of the network's stellar period series Masters of Sex on July 12.