Snoop Dogg and J.R. Smith Call Caitlyn Jenner a "Science Project" in Instagram Posts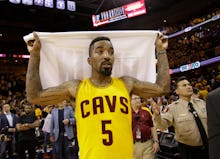 While most in the media and Hollywood welcomed the arrival of Caitlyn Jenner into the world, a few prominent haters could not resist the urge to do what they do best.
Cleveland Cavaliers basketball player J.R. Smith and rapper Snoop Dogg are two such haters.
Just one day before his team enters the NBA Finals, the basketball star took to Instagram Wednesday to tell the world exactly how he felt about Jenner's transition. In a post, which appears to be a meme, Smith called her a "science project" and complained about the lack of media attention given to rapper Akon's plan to provide solar power to hundreds of millions of Africans. On the same day, Snoop Dogg also posted the meme.
"Shout out to Akon ! He is about to supply 600 million africans with solar power. Im really upset that this isnt [sic] major news but that science project bruce jenner is #society."
Smith's post was swiftly deleted. Snoop Dogg's, however, remained on his official Instagram account and currently has over 125,000 likes as of 5:30 PM Wednesday.
It's not the first time Smith and his team have made a public personal foul. In 2013, Smith made headlines for a personal feud with Detroit Piston point guard Brandon Jennings, which culminated in Smith publicly threatening Jennings over Twitter. A year earlier, Smith posted lewd photos of model Tahiry Jose to his Twitter account, which he was also forced to delete. Smith's personal behavior could be a result of his own team's less than stellar record on women's issues. In 2015, a Cavalier's sketch aimed at humorously promoting their upcoming playoff series with the Chicago Bulls spectacularly misfired with jokes about domestic violence. 
For Snoop Dogg, the transgender trolling comes as an unfortunate surprise given the star's large millennial following. 
Partly because of celebrities who spread memes like this, it's never easy to transition, but it's especially difficult to do so late in life. Jenner's actions are a victory for LGBT rights and human rights everywhere. Trolls like Smith need to be shut down whenever they emerge.