The Story of How In-N-Out Made It Big Will Make You Love It Even More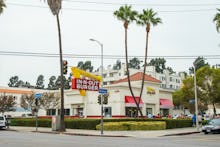 Two companies are battling it out for the best burger chain in America. One is a family enterprise. The other is a $2.9 billion public company.
In the coming years, things could really heat up between America's two "fast casual" burger chains: In-N-Out and Shake Shack. Late in April, Shake Shack announced that it would open its first restaurant in Los Angeles, right in In-N-Out's backyard. Meanwhile, In-N-Out is refusing to expand quickly or go East. While the debate among loyal customers, online and off, is about which has the better burger, there's something about the story of In-N-Out that just makes it so damn lovable. It's a perfect study in contrasts.
In-N-Out wasn't founded by a famous restaurateur.
Shake Shack was founded by New York-based restaurateur Danny Meyer, who owns and operates a string of well-known restaurants and is the CEO of Union Square Hospitality Group.
In-N-Out was founded by Harry Snyder, a World War II veteran. He was in Seattle, working as a caterer, when he met Esther, then a waitress at a restaurant where Harry used to eat. When they moved down to California together in 1948, they got a crazy idea to start a quaint little burger stand of their own across the street from where Harry grew up.
In-N-Out wasn't even founded in a city.
The first Shake Shack restaurant was built in 2004 in Madison Square Park. Shake Shack was paying about $570,000 for the prime real estate in Manhattan as of 2012.
In-N-Out Burger was opened by Harry and Esther in Baldwin Park, then an unincorporated city outside of Los Angeles. Harry would stop by the local markets every morning and buy fresh ingredients to serve at In-N-Out that day. Esther would keep the books at their house around the corner. Even though McDonald's and others were already around at the time, In-N-Out was the first drive-through hamburger stand in California and was one of the earliest to use the two-way speaker system that's now ubiquitous at fast-food restaurants.
In-N-Out has grown slowly, slowly.
Shake Shake has aggressive expansion plans. It had 36 locations in the U.S. when it IPO'd last year and has plans for 400 more.
In-N-Out, on the other hand, sets strict requirements for opening a new restaurant and is famously slow to expand. When Harry Snyder died in 1976, there were only 18 drive-through locations. Here's a map of all the counties with an In-N-Out restaurant, in the six decades since its founding:
In-N-Out to Wall Street: Suck it.
Shake Shake is a Wall Street darling. Since its IPO, it has risen to a $2.9 billion market capitalization on revenues of $34.8 million. 
In-N-Out is still family-owned and refuses to go public or do any franchising, as a means of protecting its quality food and brand. It demands that each of its restaurants be within a one-day drive of one of its distribution centers to ensure ingredients stay fresh. Maybe it's because of this slow-growth approach that the company was valued at $1.1 billion last year, according to Bloomberg, despite bringing in $625 million in revenue, according to an estimate by Privco.
In-N-Out is run by the Snyders, still.
Shake Shack is run by Randy Guratti, a long time executive at Union Square Hospitality.
In-N-Out is run by 32-year-old Lynsi Snyder, Harry's granddaughter. She's famously press shy, is America's youngest female billionaire, escaped two attempted kidnappings and is the crew chief of a drag racing team (a passion she inherited from her father). Snyder plans to keep the company family-owned and run.
And that "secret menu," though...
In-N-Out's not-so-secret secret menu is the first thing In-N-Out-philes tell their first-timer friends. How the secret menu came about embodies In-N-Out: Enough people made the same requests that each ended up with its own code name that was passed by word of mouth and eventually became part of the In-N-Out culture. The most famous order, for example, is probably animal style: extra sauce, grilled onions, pickles and patties fried in mustard. As legend goes, unruly surfers used to head to the local In-N-Out in Southern California and put in the special order and because of their appearance and tastes, were referred to as "animals" by the clean-cut kids behind the counter. Today, everyone benefits. You can even get animal-style fries. 
But In-N-Out is much more than just a friggin' delicious burger.
Reviews for Shake Shack either rave about the burgers or rant about the long lines or both.
Reviews for In-N-Out often focus on the burgers, but also demonstrate a fondness customers have for the way it's run. In-N-Out has always paid its employees well above the federal minimum wage. Its managers can sometimes earn six figures, and it prides itself on having one of the lowest turnover rates in the industry.
To top it all off, In-N-Out will do just about anything to make people happy.
A customer in Las Vegas walked into an In-N-Out and literally ordered a 100x100. That means 100 beef patties and 100 slices of cheese. And they made it for him.
Of course, In-N-Out did have to change the rules after this and started capping it at 4x4, but still. Talk about going the extra distance.
There's way more to In-N-Out than just the burgers. It's the friggin' embodiment of the American dream.