Here's the Absurdly High Amount of Money Celebrities Get Paid to Wear a Single Dress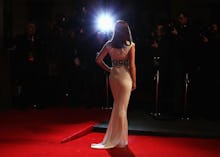 $250,000.
That's how much a top celebrity can net from a deal to wear a specific designer's dress on the red carpet, according to celebrity stylist Jessica Paster. 
Paster spoke as part of a panel of stylists at the second annual Vulture Festival last weekend in New York City, hosted by Vulture and New York magazine.
More stars are being paid than we realize, Paster said, with the brands cutting deals with both the actresses and stylists like her, who dress them. The stars often get anywhere from $100,000 to $250,000, she said, while stylists earn $30,000 to $50,000, she said.
The red carpet is a business opportunity: Paster's no newbie to the industry — she's been a stylist for 19 years, has worked with clients like Cate Blanchett, Emily Blunt and Chrissy Teigen and was named among the 25 "power stylists" of 2015 by the Hollywood Reporter. And as a veteran, she's also not naive to the fact celebrities walking the red carpet is a business opportunity.
"I'm not going to bullshit," she said. "If it looks gorgeous on you and this is the dress we were going to pick anyway, why not be paid?" 
With star-studded awards shows like the Oscars now full-fledged media extravaganzas — with coverage starting hours before the event, camera crews lining every inch of the red carpet and hashtags flying on social media — the red carpet is a prime-time advertising opportunity for designers. Viewership for this year's Oscars was around 37 million, with ABC beating every other network that night, according to TV Guide.
The result is celebrities become walking billboards for designers, one that not all viewers realize they're staring at. And those billboards can be worth the investment; after Gwyneth Paltrow wore a 40-carat Harry Winston diamond necklace at the 1998 Oscars, sales shot up for the company the following week.
Redirecting the focus away from looks: Thus "who are you wearing?" has become the must-ask question for celebrities, the answers spread by a cottage industry that includes shows like Fashion Police and magazines with their trusted "best dressed" lists. 
But that intense scrutiny over fashion, while great for brands, is increasingly unpopular among viewers and the stars themselves. Gone is E!'s so-called "mani cam," the on-air feature that zoomed in on actresses' manicures — and their name-brand rings and bracelets. (Elisabeth Moss might have helped speed the mani cam's death when she flipped the bird to the cameras last year.) 
More tellingly, stars are bringing the sass when pressed for mundane details on their outfits. Blanchett, who regularly makes the "best dressed" lists also became visibly irritated at the Screen Actors Guild awards in 2014 when one cameraman tried to film her outfit from the ground up. Her perturbed "Do you do that to the guys?" reaction was soon GIF'd around the Web. 
That irritation has crested into a full-fledged movement, as celebrities and their fans use the hashtag #AskHerMore, encouraging reporters to focus on the careers, not the clothes, of their female interview subjects.
Maybe instead of asking, "Who are you wearing?" hosts can begin asking, "Who paid you to wear this dress?" And then move on to more interesting topics. 
h/t The Cut