This Teen's Heartbreaking Suicide Reveals an Epidemic Nobody's Talking About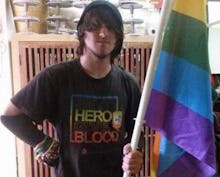 Adam Kizer didn't need to die.
The 16-year-old sophomore at Sonoma Valley High School in Sonoma, California, was taken off life support Saturday after attempting to take his own life four days prior. Kizer was bisexual and faced years of bullying, including being doused with gasoline and almost being set on fire by his classmates because of his sexuality. 
Kizer's death falls approximately one month after 12-year-old Alyssa Morgan, from Iowa, took her own life after relentless bullying because of her bisexual identity. 
Kizer's and Morgan's deaths are not anomalies. They represent an overlooked epidemic of violence and harassment faced by bisexual people. 
Bisexuals face exorbitant levels of harassment: A 2011 study by researchers at the University of Illinois found that bisexual middle school and high school teens "are at greater risk of suicidal thoughts and suicide attempts, bullying by their peers and truancy." And the Human Rights Campaign's 2012 survey of more than 10,000 LGBT youth, ages 13 to 17, showed not only do most LGBT youth identify as bisexual, but they face more harassment than their queer peers.
And this harassment also comes from within the LGBT community: Bisexuals are misconstrued by those who are supposed to be their allies as people who, Mic contributor Eliel Cruz wrote, "don't exist" or who are "sexually greedy" or are "just going through a phase." These lies are hurled as barbs intended to ostracize bisexuals from the queer community. 
"Monosexuals frequently dismiss, diminish and invalidate the wealth of data that shows bi+ people to have less support in coming out, in dealing with bullies or surviving suicide," BiNet president Faith Cheltenham wrote about Kizer's death. 
Change must come from within, first: The LGBT community must step up to accept and support their peers, especially bisexuals, who constitute a majority of those within the community yet are marginalized more than anyone else. We move forward when united and can only present the strongest front in our continued fight for equal rights when we respect one another as equals.