Converse May Have Just Created the Greatest Contest for Young Bands Ever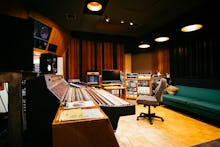 Converse may have gotten its start on the basketball court, but the Chuck Taylor has been rock's go-to shoe for years. Now the company is giving back to the creative community that helped make its name by offering independent bands the opportunity of a lifetime.
Converse has the keys to 12 of the most legendary recording studios, including Jamaica's Tuff Gong, Georgia's Stankonia and London's Abbey Road. From now until June 24, the brand will be accepting applications from bands to offer a select few the chance to cut their breakout album. It's yet another example of the intersection between commercial brands and music culture, but definitely one of the coolest examples. And it's proof that "selling out" doesn't have to result in an artist losing their creative integrity.
The trouble with studios: Securing studio time is one of the biggest challenges that up-and-coming musicians face. "Recording in a professional studio is unaffordable for many emerging artists, with many of these bands turning to home studios and bedroom recording," Jed Lewis, Converse's global music marketing director, told Mic via email.
Long before announcing this contest, Converse had been addressing this problem for artists. The company built its own Rubber Tracks studio in Brooklyn, New York, in July 2011, which offers bands that apply a chance to record at no cost while retaining full rights to their music. More than 900 emerging artists, such as Bay Area rapper Iamsu!, the darkly psychedelic Chimes and stoner R&B sensation Adrian Daniel, have used that studio and others Rubber Tracks runs.
Their new contest only expands this program. The Brooklyn studio and its Boston sister studio are only two of the studios the company holds the keys to. Outkast shaped some of its biggest breakout hits in Georgia's Stankonia. Sunset Sound has been a fixture in the West Coast rock scene since the 1960s. And Tuff Gong, founded by Bob Marley in 1965, has supported the local and international reggae scene for years.
"[E]ach studio in the program has played an integral role in shaping music history, with the legendary artists who have recorded there redefining generations and genres for decades," Lewis said. "We wanted to give aspiring artists the opportunity to be a part of this greatness by actually contributing to it."
Damon Albarn and Graham Coxon, founding members of Blur, described recording in Abbey Road in a newly released promotional clip for Rubber Tracks. The band recorded their 1995 single "To the End" there. "It was a very grown-up experience, but it did sound amazing standing in that room," Coxon says in the video. "It makes you feel like you're in a hallowed area or something."
Brands and music: Brands are intersecting with the music world at an alarming rate. In its disarray, the music industry has been welcoming that crossover with open arms. But there are right ways to do it and there are wrong ways. Selling ad space in music videos and in song lyrics, as many labels have allegedly started doing, compromises the artistic process and delegitimizes the artist. It may not seem like the most high-impact marketing move, but in offering artists opportunities they would likely never otherwise get, corporations can gain visibility while supporting their consumers' scene. That's something that Red Bull has proven with its Red Bull Music Academy and Sound Select programs, and it's something Converse is supporting now.
"We're not a record label, nor do not have plans to ever become one," Lewis told Mic. "We're looking at it as an investment in making sure that new voices have the means to be heard. We won't own any of the content or become a label — the music belongs to the artists who created it."
The only question that remains: Who's worthy of the prize?