5 Powerful Quotes Prove Angelina Jolie Is a Feminist Genius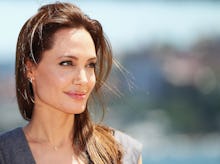 Few celebrities have leveraged their platforms to empower others the way Angelina Jolie has. Not only has the actress won an Oscar, but also a Jean Hersholt Humanitarian award. She's uplifted and advocated for individuals abroad, as a Special Envoy for the United Nations High Commissioner for Refugees, as well as at home, as a vocal advocate for breast cancer awareness — and that's just the short list.
So for her birthday, June 4, it's worth taking a moment to appreciate Jolie's commitment to fighting for the type of world in which we'd all like — and deserve — to live.
1. She uses her platform to advocate for others.
Jolie credits her experience filming the 2001 hit Lara Croft: Tomb Raider in war-ravaged Cambodia as critical to inciting her humanitarian work. She has since been a vocal advocate for a variety of humanitarian causes, especially advocating for women mistreated in conflict.
"Women are still treated as secondary issues," Jolie said at the 2015 Women in the World Summit. "It is still far too easy and accepted for leaders to ignore uncomfortable truths, from female genital mutilation to child marriage. It is still the norm for women to be excluded from the peace process. Women, we know, are the first to be affected by war, and the last to be taken into account when it ends."
But raising awareness isn't enough — she also aims to incite action.
"Everyone in this room knows an outcry is not enough," she added. "We need to change attitudes around the world. We have a particular responsibility."  
2. She believes women should have a strong sense of self.
While the tabloids have documented every moment of Jolie's relationship with partner Brad Pitt, she insists that independence is crucial, regardless of one's relationship status.
"Figure out who you are separate from your family and the man or woman you're in a relationship with," Jolie told Cosmopolitan in a 2003 interview. "Find who you are in this world and what you need to feel good alone. I think that's the most important thing in life. Find a sense of self because with that, you can do anything else."
3. She pushes back on beauty standards.
Jolie is consistently named one of the world's Most Beautiful People, but she hardly subscribes to such ridiculous beauty standards and prioritizes much more meaningful qualities.
"I don't think about beauty," she told 60 Minutes in 2012. "I wake up and I want to be a smarter person, that's my focus ... I'm encouraging certainly my girls that if they can make their inside and who they are really, really stunning then everything falls together."
4. She empowers women to take control of their health.
Jolie decided to remove both of her breasts in 2013 because she learned she was at risk for developing breast cancer.
"I hope that other women can benefit from my experience," Jolie wrote in a New York Times op-ed. "Cancer is still a word that strikes fear into people's hearts, producing a deep sense of powerlessness. But today it is possible to find out through a blood test whether you are highly susceptible to breast and ovarian cancer, and then take action ... I do not feel any less of a woman. I feel empowered that I made a strong choice that in no way diminishes my femininity."
It's clear that other women did benefit from her outspokenness: A team of researchers found that the number of referrals for genetic counseling and DNA tests for breast cancer mutations increased two and a half times after she spoke out — a phenomenon they dubbed the "Angelina Jolie effect."
5. She encourages individuality.
When Jolie received the Nickelodeon Kid's Choice Award in 2015, she took the opportunity not to reflect on her own accomplishments, but encourage others.
"I was told that I was different — and I felt out of place, and too loud, too full of fire, never good at sitting still, never good at fitting in," Jolie recalled in her acceptance speech. "And then one day I realized something, something I hope you all realize. Different is good. When someone tells you that you are different, smile and hold your head up and be proud."