Stephen Hawking on Assisted Suicide: "I Want to Die on My Own Terms"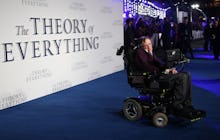 Cosmologist, physicist and all-around legend Stephen Hawking told the BBC he would seriously consider assisted suicide if he "had nothing more to contribute." Hawking discussed the matter with British comedian Dara O'Briain in a BBC One documentary to air later this year. 
Hawking has Lou Gehrig's disease, or ALS, which is slowly degenerative, but he said in the documentary he does not have any pain, reported the Telegraph. "To keep someone alive against their wishes is the ultimate indignity," Hawking told the BBC, according to the Guardian. "I would consider assisted suicide only if I were in great pain or felt I had nothing more to contribute but was just a burden to those around me."
"We don't let animals suffer, so why humans?" Hawking asked the Telegraph when discussing the matter in 2013.
However, he made it clear he still had plenty of work ahead of him before he was prepared to make such an important decision.
"I am damned if I'm going to die before I have unravelled more of the universe," he reportedly told O'Briain, in typical Hawking fashion.
A contentious subject: Hawking has publicly advocated for the legal right to end one's life in extenuating circumstances. He and Desmond Tutu backed a bill on the issue that was presented to the U.K.'s House of Lords in July 2014. It is "discrimination against the disabled to deny them the right ... that able-bodied people have," Hawking told the BBC in July. The bill is unlikely to be passed by parliament, but is being reviewed by relevant committees, reports Slate.
Brittany Maynard made news in October 2014 when she moved to Oregon, one of five states that has death-with-dignity laws, in order to gain access to assisted suicide after being diagnosed with an aggressive brain cancer.  
"I can't even tell you the amount of relief that it provides me to know that I don't have to die the way that it's been described to me, that my brain tumor would take me on its own," Maynard once said in a video about her experience.
The issue is hotly contested in the United States and "her decision has been met with fervent opposition from disability rights advocates and religious conservatives," Al-Jazeera reported after Maynard announced her plans.
The movement is slowly gaining traction across the country, and death-with-dignity laws, much like many progressive social issues, could well become uncontroversial and established within a generation. Thankfully, when it comes to Hawking, there's no danger of losing him just yet. He still has a lot more of the universe to unravel.