Hillary Clinton Wants Every State to Guarantee 20 Days of Early Voting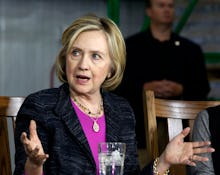 On Thursday, Hillary Clinton will call for states across the country offer at least 20 days for early voting, according to the Washington Post.
The former secretary of state's remarks will be made at Texas Southern University, a historically black university in Houston, and focus on growing threats to voting rights, according to the Post. 
"This is, I think, a moment when we should be expanding the franchise," John Podesta, Clinton's campaign chairman, told the Post. "What we see in state after state is this effort by conservatives to restrict the right to vote."
The New York Times reports that Clinton will "single out laws in Texas and in North Carolina, Ohio and Wisconsin" due to their laws restricting voter participation. She'll also note how her likely Republican opponents, including Wisconsin Gov. Scott Walker, former Florida governor Jeb Bush and former Texas governor Rick Perry, come from states that have made voting more difficult for citizens.
She'll also propose restoring the right of ex-felons to vote.
Why it matters: In contemporary American politics, the right to vote is not a settled matter. In Republican-dominated legislatures across the country, limitations on voting in the form of stringent voter ID laws and pushback against measures like early voting have passed into law at an astonishing pace.
A 2014 Brennan Center for Justice report found that since 2010, new voting restrictions have taken hold in 22 states: 
Why do Republicans find the idea of making voting easy so distasteful? Ostensibly, in part, because of a fear of voter fraud. But given that there's no substantial proof that voter fraud is a threat to the legitimacy of the electoral process, it's widely understood to be an issue of securing political advantage: Restricting voting nearly always affects young people, poor people and people of color disproportionately. Those are critical demographics for the Democratic Party, and thus the GOP is more than happy to do anything to dampen their intention to vote.
Clinton's stance isn't an unusual one for a Democrat to take, but her decision to prioritize it early in the campaign speaks to the importance of drawing minority voters into her coalition.